Energy management by Albert Leuchten
Our energy solutions are the ideal additions to your personal energy management. Flexible use of electricity in your home garden or on company property, convenient charging of your electric car in your own driveway. Find out what options are available to you with energy solutions from Albert Leuchten.
Energy Management
Flexible, stylish and practical – Energy management from Albert Leuchten
Energy management on your own property is a topic that has become increasingly important in the last few years. Using your own electricity where you need it – in the garden, on the terrace, in the driveway for the electric car. At Albert Leuchten you can find various products to build your own efficient energy management system. From socket spikes to energy columns to e-car charging stations.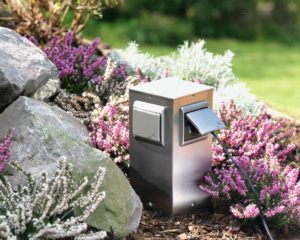 Socket skewers and socket columns – modern power suppliers for your garden
In your own garden, electricity is indispensable if you do not want to constantly drag an extension cord behind you. Especially in summer, an energy distributor is helpful when you want to start the electric grill on the terrace or mow the lawn. A power strip helps with energy management so you can flexibly use your electricity where you really need it.
Conventional power strips not only look unsightly, they are also a source of danger because they are not adequately secured for outdoor use. Socket columns, on the other hand, are ideally suited for outdoor energy management. With appropriate protective contact sockets and covers, they are protected against moisture penetration.
If, on the other hand, you don't want to commit to one place where you mount your socket column, then you can also opt for the flexible socket spikes for your energy management. These are also great for outdoor use and can be easily relocated when needed. And after the gardening season? Then simply disassemble the socket skewer and store it in the basement or garage until the next use.
With both variants, you have the choice of whether you want two, three or even four protective contact sockets. Browse our range and find your favorite for your energy management.
Energy columns from Albert: Flexible energy management – freely configurable
If you would like to use your power connection more flexibly and, in addition to normal power use, also charge your electric car with it, for example, then we recommend our energy columns for your energy management system. You can configure these freely according to your wishes and thus create your own combination of grounding contact plugs, e-charging adapters and, if required, camping plugs.
Due to the variety and flexibility in selection, our energy columns are suitable for both private and commercial use, as well as for use on a campsite. You have a permanent pitch and would like to supply it conveniently with electricity? Then you make exactly the right choice with an energy column from Albert.
Like the socket columns, our energy columns are also made of robust and weatherproof stainless steel or aluminum. Thus, they are ideally suited for outdoor use. You can get the pillars in our assortment in different colors and sizes, so that you can adapt your energy management to the rest of your design style.