Bollard luminaires – islands of light for paths and driveways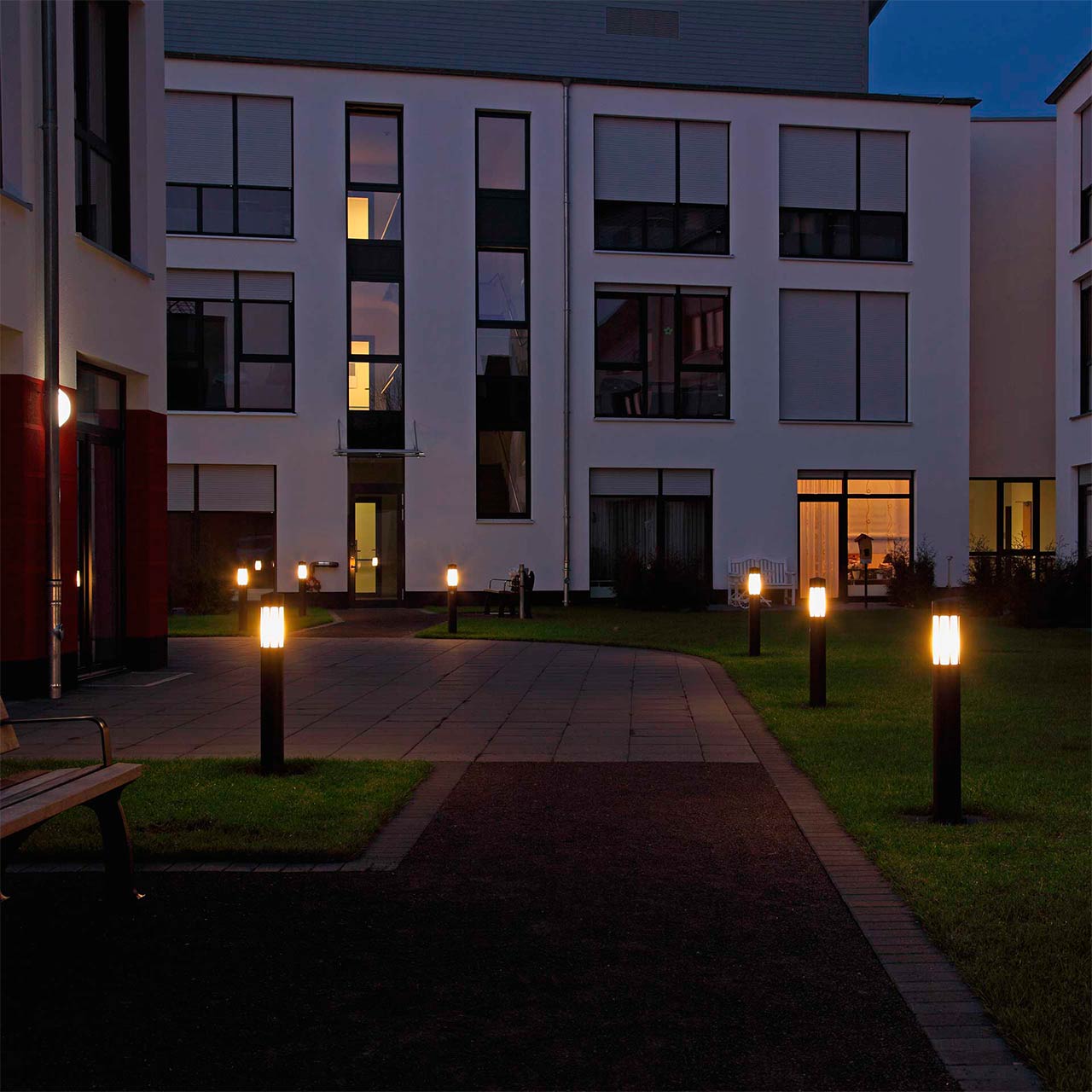 A bollard luminaire is the optimal light source to make accessible outdoor areas safer in the dark. The light source of these attractive pillars is located at a medium height. It is about 80 to 130 centimetres above ground level. This makes bollard luminaires taller than base luminaires but lower than post luminaires.
The great advantage of these products is that they can illuminate the entire ground surface if arranged appropriately. At the same time, bollard luminaires can be used to create selective lighting accents because these luminaires are usually installed in groups.
Create atmospheric lighting concepts with bollard lights
To make your lighting design harmonious, you should arrange luminaires so that the light cones always overlap slightly. This way, you will not be left in the dark on your way to the front door. The individually recommended light point spacing varies here from product to product. You will find exact details for each bollard luminaire in the Albert general catalogue. Put your garden in a new light – with Albert luminaires.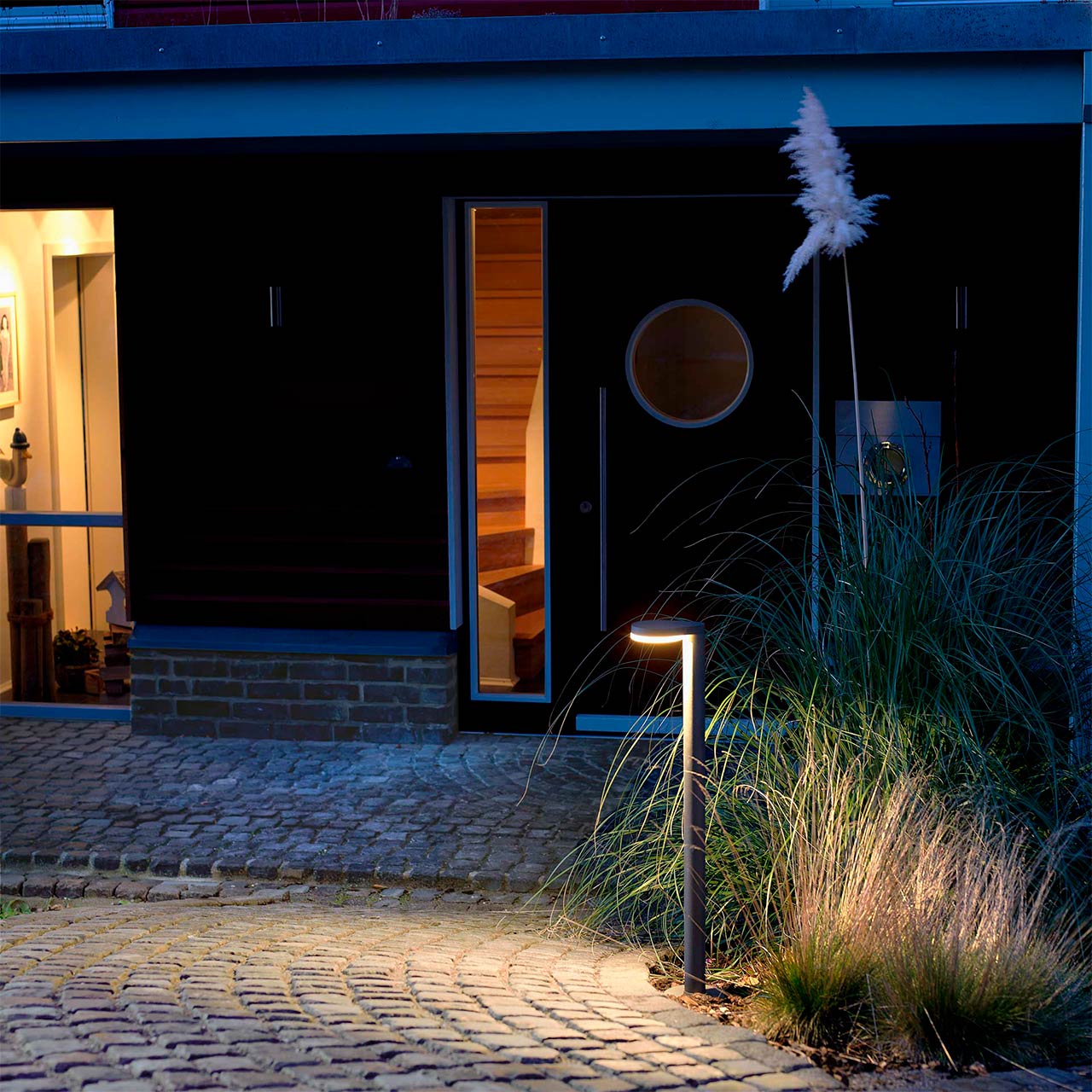 With bollard luminaires, you can design the lighting concept for your outdoor areas very individually. For this purpose, we offer path luminaires and other articles that come up with very different lighting designs. Choose a model with all-round light distribution. This way, you can also illuminate the areas next to paths and stairs at the same time.
If you do not want 360° illumination, then buy models with directional light cones or with one, two or three-sided light emission. Steplessly swivelling versions offer the possibility of aligning the garden lighting entirely according to your needs. They can also be used to create unusual lighting designs for outdoor areas.
LED bollard luminaires made of cast aluminium or stainless steel
You have a lot of choice when it comes to the design of our bollard luminaires. We offer objects made of cast aluminium, stainless steel and optionally with reflector and/or cylinder made of Plexiglas. We also offer our path lights in spherical form with bubble or opal glass. It goes without saying that we use energy-saving LED technology for high-quality products "made in Germany".
Many LED bollard lights from our manufacture have a retrofit socket for common LED light sources. Other models have a built-in LED that can be replaced. The mounting plate required for assembly is always included with our quality luminaires.
Albert LED bollard lights with motion detector
In addition to the products already mentioned, you will also find bollard lights with motion detectors in the Albert Leuchten range. This product feature is particularly practical. An outdoor light with motion detector automatically illuminates paths when people or cars approach. This means you no longer need to flick a light switch when you come home.
Potentially uninvited guests are effectively deterred by the light. With our bollard luminaires with motion sensor, you can easily set the light duration yourself. In addition, you can regulate when the motion sensor should react when darkness falls.
Bollard lights with socket: light and power source in one product
Our Albert bollard luminaires with integrated power connection are also in great demand. You will find these products under the term socket light columns in our catalogue and on our website. The energy columns with lighting have integrated sockets for power distribution outdoors.
Light columns with socket can be optimally combined with any other LED bollard light. We have harmoniously matched the design of the product lines. We carry Albert garden lights with socket in the colours anthracite, brown-brass, black, white and silver. Browse now for your personal favourite!