Personalise your entrance: House numbers with and without lighting and bell plates from Albert Leuchten
House numbers with and without lighting as well as bell plates from Albert offer you countless possibilities to completely personalise your entrance area. Whether separately or in combination with our wall lights, outdoor lighting or even letterboxes, there are hardly any wishes left open to be able to implement your own style down to the smallest detail. Discover the different options our range offers you and let yourself be inspired by the variety.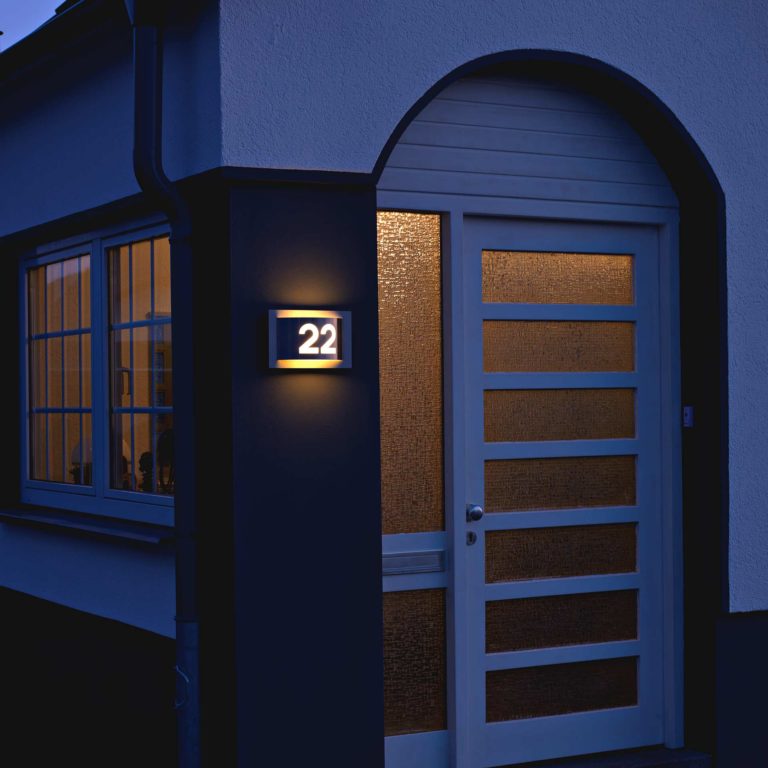 House number lights: Light accents with orientation factor
It is often details that make the difference. House numbers with lighting set additional light accents in your entrance area. Whether indirectly illuminated or with small spotlights, our house number lights are small eye-catchers that contribute to the inviting ambience of your entrance.
Made of glass or stainless steel, with LED lighting or illuminated by spotlights: Our house number lights are available in many different versions. Classic, timeless, modern or stylish – house numbers with lighting from Albert can be combined with many design styles.
Incidentally, house numbers with lighting not only look decorative, in some federal states they are even required by law. With our house number lights, you are doubly on the safe side.
House numbers and adhesive numbers – Individual marking for your building
The traditional house numbers made of brass, cast iron or enamel have been "growing" for a long time. In the meantime, the aesthetic aspect also plays an increasingly important role in the numbering of buildings. Therefore, house number plates made of stainless steel or with glass components are enjoying increasing popularity. With our individual house numbers, you can put together your house marking individually.
With the help of adhesive numbers, you can easily convert your house entrance lights into a house number light. The labels are waterproof, so even heavy downpours won't harm them.
With the strong variety in our range, you can adapt the numbering of your building to your personal wishes and your respective design style.
Bell plates with laser engraving for personal style
Clear bell signs and bell plates on the building make sense, not only in case of an emergency. After all, you want your letters and parcels to arrive at the right destination. With bell plates from Albert Leuchten, you can set elegant accents for your house or property entrance.
Our high-quality bell plates contribute to a visually harmonious interplay with house numbers and entrance lighting. They also last much longer than other plastic versions or cheap adhesive signs.
Weatherproof and easy to clean, made of stainless steel, durable and hard-wearing. So that you can enjoy your doorbell plate for as long as possible. We offer the bell plates with various fastening options. All are tried and tested and solid.
We carry out engravings with modern laser technology. This allows us to decorate your bell plates and engraving plates according to your specifications and wishes. So that your doorbell plate becomes truly unique.
Browse through our range and our catalogue. There you can find out more about our various products for house numbers and bell plates and also about our engraving technology.