Albert pole lights - lighting design for objects & gardens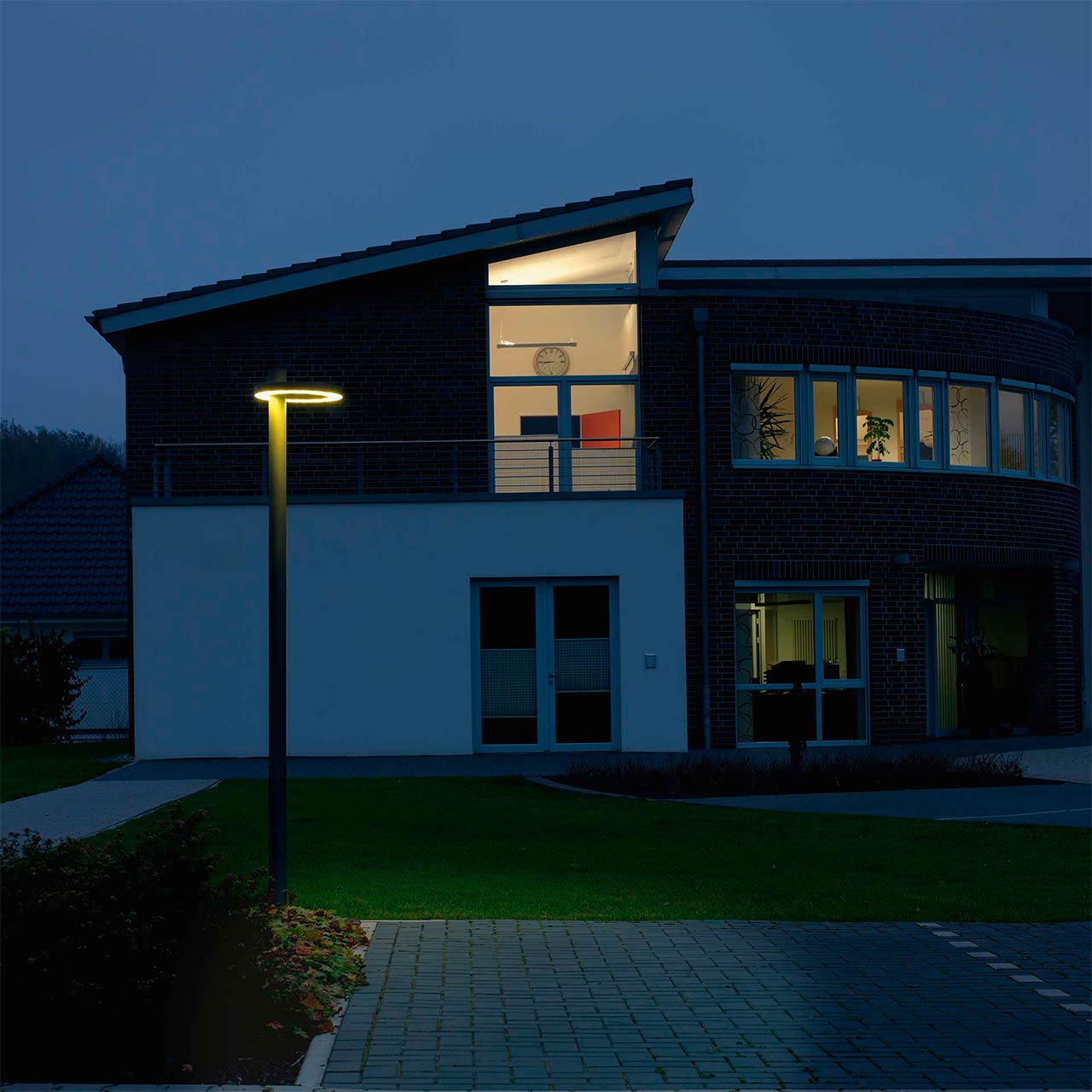 With post-top luminaires, lighting design is a high priority. With these products, the light source sits on a tall pole. The total length of the pole varies between 180 and 250 centimeters. If you are looking for glare-free lighting that covers the entire area, you are more than well advised to use a mast luminaire.
Due to their design, mast luminaires are reminiscent of classic street lanterns. However, when it comes to designing public squares, commercial areas and gardens, a much wider range of choices is required. That is why Albert pole luminaires are available in a wide variety of designs.
For modern object lighting, for example, we manufacture models with ring-shaped or U-shaped LED components. Our pole luminaires with reflectors made of highly polished and anodized aluminum promise a particularly high light yield. And if you like it classic, we of course also offer products in picturesque country house style.
Albert mast lights in country house style – historic-looking highlights
A special highlight of the product range of Albert luminaires are mast luminaires, which are equipped with several lights. A two-, three- or even four-lamp version is not only visually a real "eye-catcher". It also provides a lot of light to make parking lots, driveways or walkways even safer and brighter.
We at Albert Leuchten have captured the magic of times gone by with our nostalgic pole lights. Our products are enthroned on elegantly decorated cast aluminum poles with globes made of opal or bubble glass. Furthermore, we offer models in classic lantern shape.
Such light poles are also known as candelabra. Derived from the Latin word "candelabrum" (candelabrum), this term testifies to the tradition of the last centuries. Take advantage of the spectacular appearance of these pole lights. Put walkways, parking spaces or the entrance area of your building stylishly in the right light.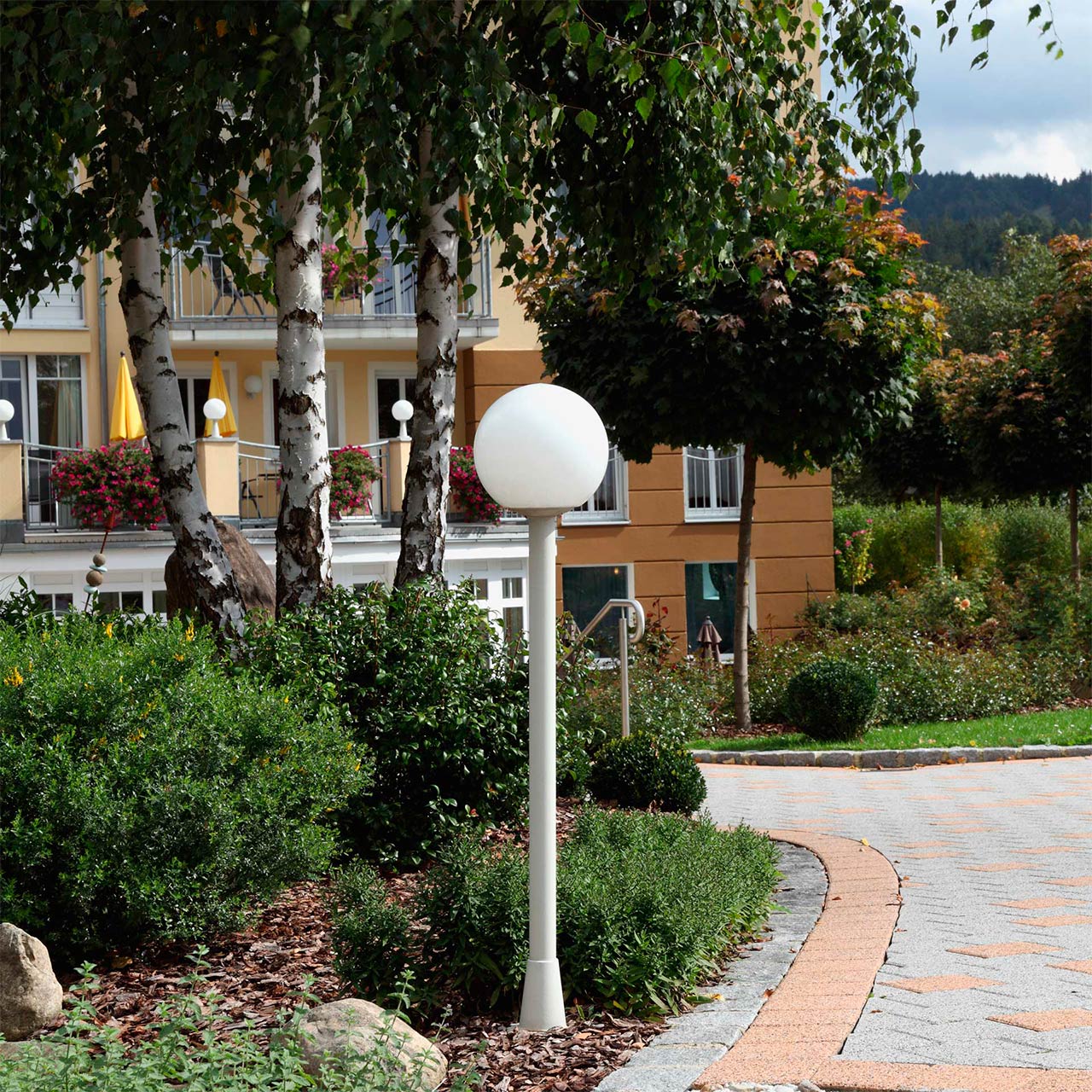 Nostalgic on the outside, en vogue on the inside: Albert pole lights
Our country-style lampposts are a perfect match for historic inns, country estates or hotels. Inside each Albert pole light, however, works the most modern and reliable technology of the 21st century.
This includes replaceable and power-saving LED components as well as safe devices for through-wiring. And thanks to a high IP protection rating, our LED pole lights are protected from wind and weather according to strict safety standards.
Even more choice for your lighting concept: Albert post-top luminaires
At Albert Leuchten, you can get post-top luminaires that come with all the essential components for mounting. All you need to remember is to order a suitable ground mounting base. You connect your new post-top luminaire to the 230-volt power supply via this sturdy base plate with cable entry on the side. The plates also ensure that the entire construction stands securely.
You want to go even higher? Then we recommend our range of post-top luminaires. You combine these variable luminaires with matching steel poles. We offer mast lengths ranging from three to eight meters in height.
With our powerful floodlights or other Albert post-top luminaires, you can achieve particularly large-area and bright lighting. This is suitable, for example, for sports fields or industrial outdoor warehouses.
One last tip! When planning your lighting, pay attention to our recommendations for the distance between light points. This refers to the optimum distance between two mast luminaires. You can find the values for this in the Albert general catalog. There you will also find suitable luminaires for your project!