Bell plates - chic orientation for your guests
In Germany, there is no legal obligation to attach a bell plate to the entrance gate. But let's be honest: without a clear door sign, problems can quickly arise. What about mail delivery? What happens when emergency doctors lack orientation? Or a new acquaintance visits you at home for the first time?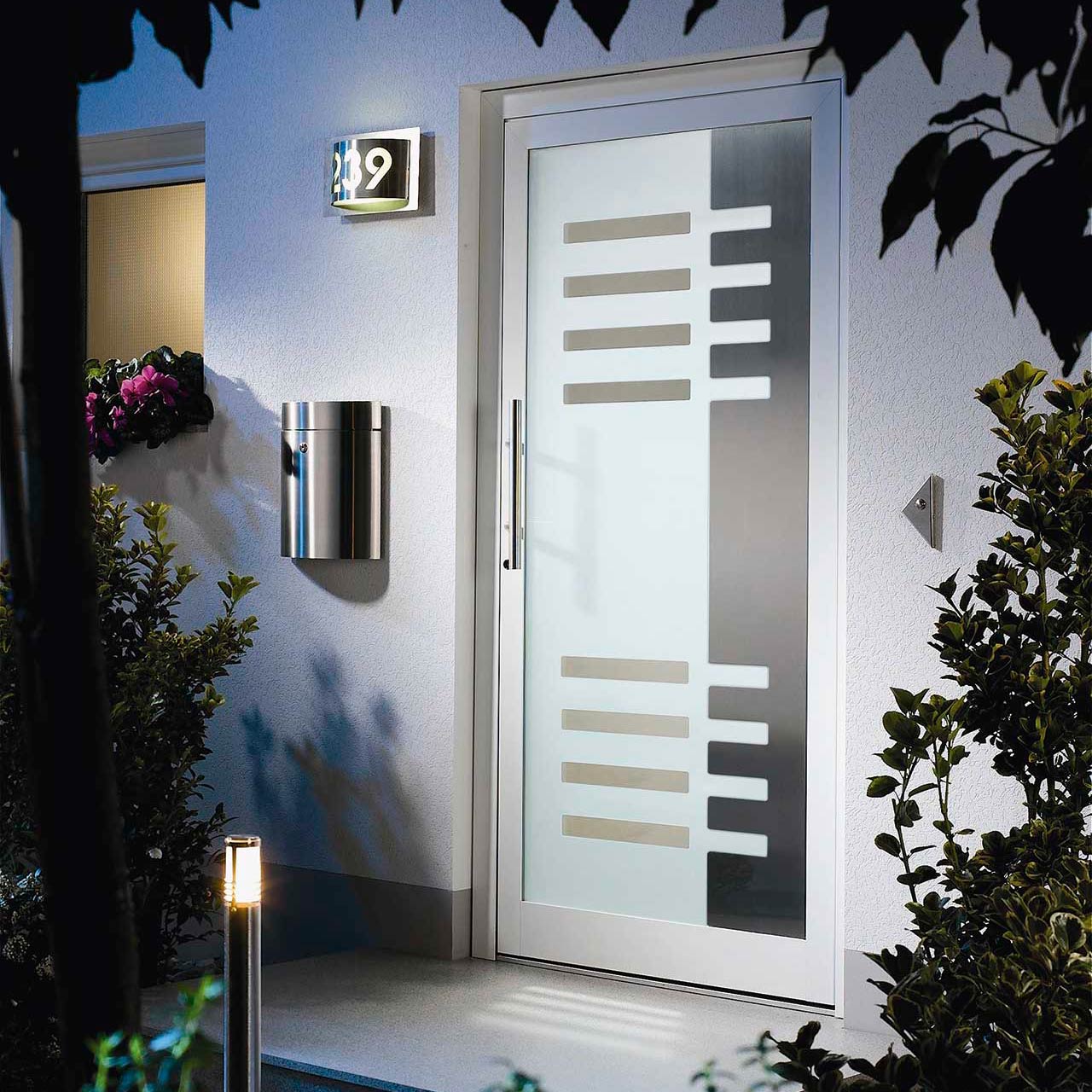 Bell plates from Albert Leuchten – timeless design, sturdy material.
As you can see – a bell push button with name engraving is not compulsory, but more than sensible. That's why you should opt for a high-quality doorbell plate from Albert Leuchten. Our products give your house entrance a timeless elegance.
With a high-quality doorbell plate including a colour-coordinated doorbell button, you as a homeowner demonstrate taste and a sense of style. The entrance area of your home looks tidy and inviting. Especially in combination with house numbers or wall lights from Albert Leuchten, you create a homogeneous look.
Stainless steel doorbell plates – durable quality
The market offers an infinite number of solutions for labelling a front door bell with your own name. However, many of them are not made to last forever.
Simple adhesive plates come off sooner or later due to moisture. Plastic engraving plates can fade or become brittle due to strong sunlight. This does not happen with a high-quality stainless steel bell push button.
Because our bell and engraving plates are made entirely of stainless steel, these products are extremely durable and hard-wearing. You only need to clean the visible parts occasionally with our care cloth with anti-fingerprint effect. Your doorbell will look like new again.
Bell plates with different types of mounting
Our bell plates are provided – depending on the model – with either a wall-mounted housing or a bolt fastening. Both fastenings are solid and hard-wearing. They have proven themselves thousands of times in daily use.
And because stainless steel is temperature and rust resistant, corrosion has no chance with all models. Because weathering such as sun, rain and snow do not attack our doorbell plates, they last for decades. So you will enjoy a front door bell from Albert Leuchten for a long time. Apart from that, the material is very hygienic due to its smooth surface.
Doorbell plates with precise laser engraving "made in Germany".
At Albert Leuchten, we never leave the quality of our products to chance. In our factory in Fröndenberg/NRW, we manufacture the vast majority of our products ourselves using traditional methods. Over the years, however, we at Albert Leuchten have also implemented countless technical innovations. These include our modern engraving machines with laser technology.
With these machines we give your bell push button the "finishing touch". On request, we inscribe all doorbell plates with a very personal laser engraving according to your specifications. This makes every doorbell unique.
Detailed laser engraving for your good name
Our engraving is not only absolutely forgery-proof, but also virtually indestructible in thermal and chemical terms. During processing, a high-precision laser is used, which is directed over the doorbell plate with millimetre precision. The end result is a laser engraving of your name that is very true to contour and detail.
Browse through our complete catalogue now. Learn more about our engraving technology. Learn everything about bell plates, bell push buttons, engraving plates and doorbells from Albert Leuchten.