Wall lights - brilliant light for walls and facades
Dark and unlit house entrances are not only oppressive and unattractive, they also pose a potential risk of accidents. With a wall light you can quickly remedy this situation.
Our outdoor wall lights conjure up a bright and friendly light in the entrance area of your house. This saves you many unsuccessful attempts to unlock the front door. At the same time, the light warns you of possible tripping hazards.
Of course, the aesthetic aspect plays a major role in our outdoor wall lights. You can buy Albert outdoor wall lights either in a modern stainless steel look, in a timeless spherical shape or as a country house light in a classic retro style.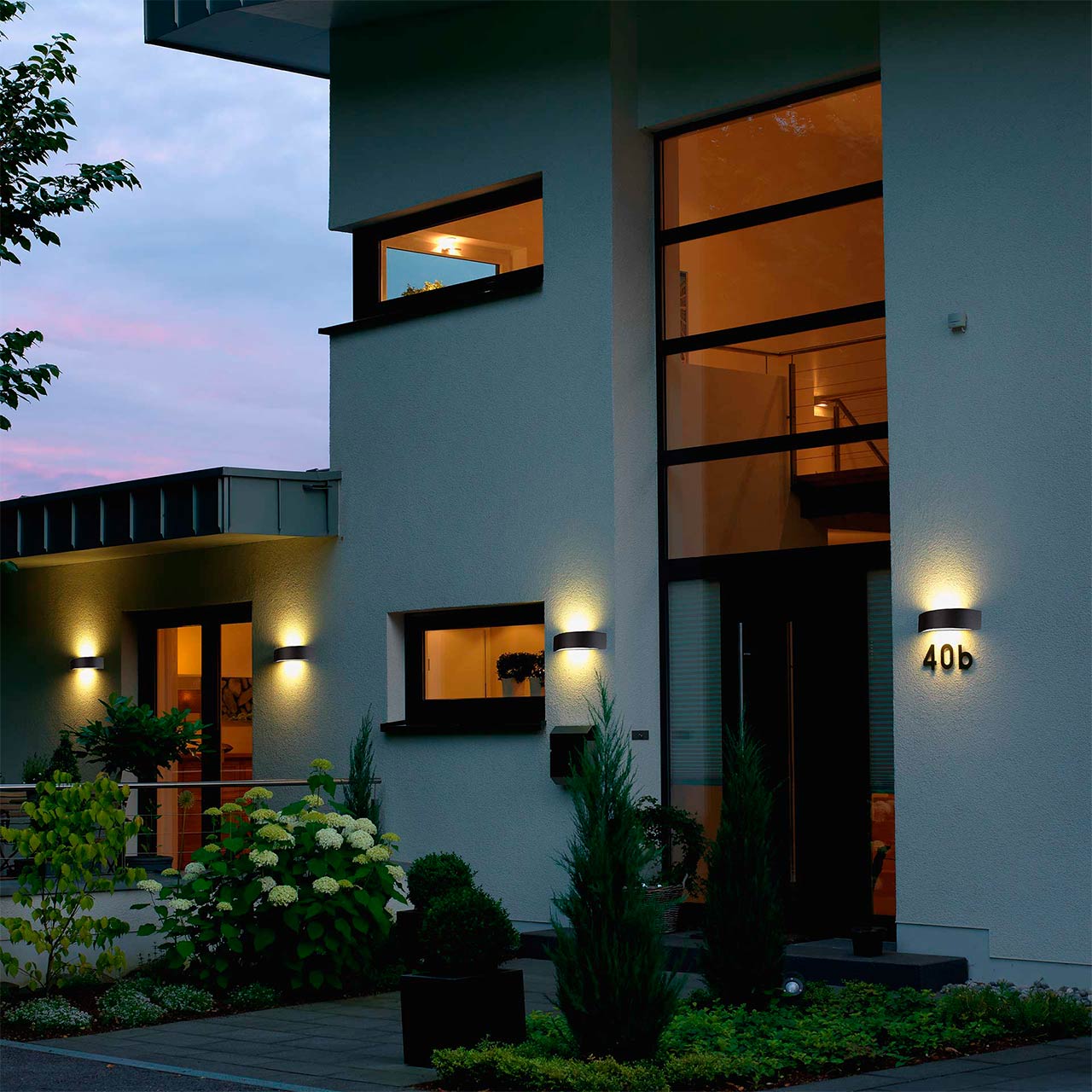 Albert wall lights – illuminating house entrances
The exterior design of a property should look homogeneous and appealing. That's why we carry outdoor wall lights that are adapted in design to our bollard lights, pedestal lights or pillar lights. This gives you the opportunity to equip your outdoor areas "from a single source" with beautifully designed light sources.
Whether you choose your outdoor wall lights in round, square, oval or cylindrical is entirely up to you. Regardless of the external shape, every outdoor wall light from our manufacture impresses with high quality and durability. Albert Leuchten achieves this by using high-quality materials such as stainless steel, cast aluminum.
The materials also offer a lot of choice when it comes to color. Buy your wall lamp in the color of your choice. We carry models in black, white, brown-brass, silver, black-silver or in noble white-gold.
Wall lights with motion detector: elegant & functional
When you come home in the dark, you'll love the convenience of an outdoor light with motion detector. Approach the luminaire and the light will be switched on by a motion detector. Shortly after you enter your home, the light goes back to sleep mode. Thus, an outdoor wall light with motion detector not only provides maximum convenience, but also still low power consumption.
Other corners of the house and garden also benefit from wall lights with motion detectors. Automatic light sources are also practical near the garage door, at the garden house or at a cellar staircase. By the way, you can regulate the desired lighting time individually yourself. Once set, you will quickly get used to this light luxury.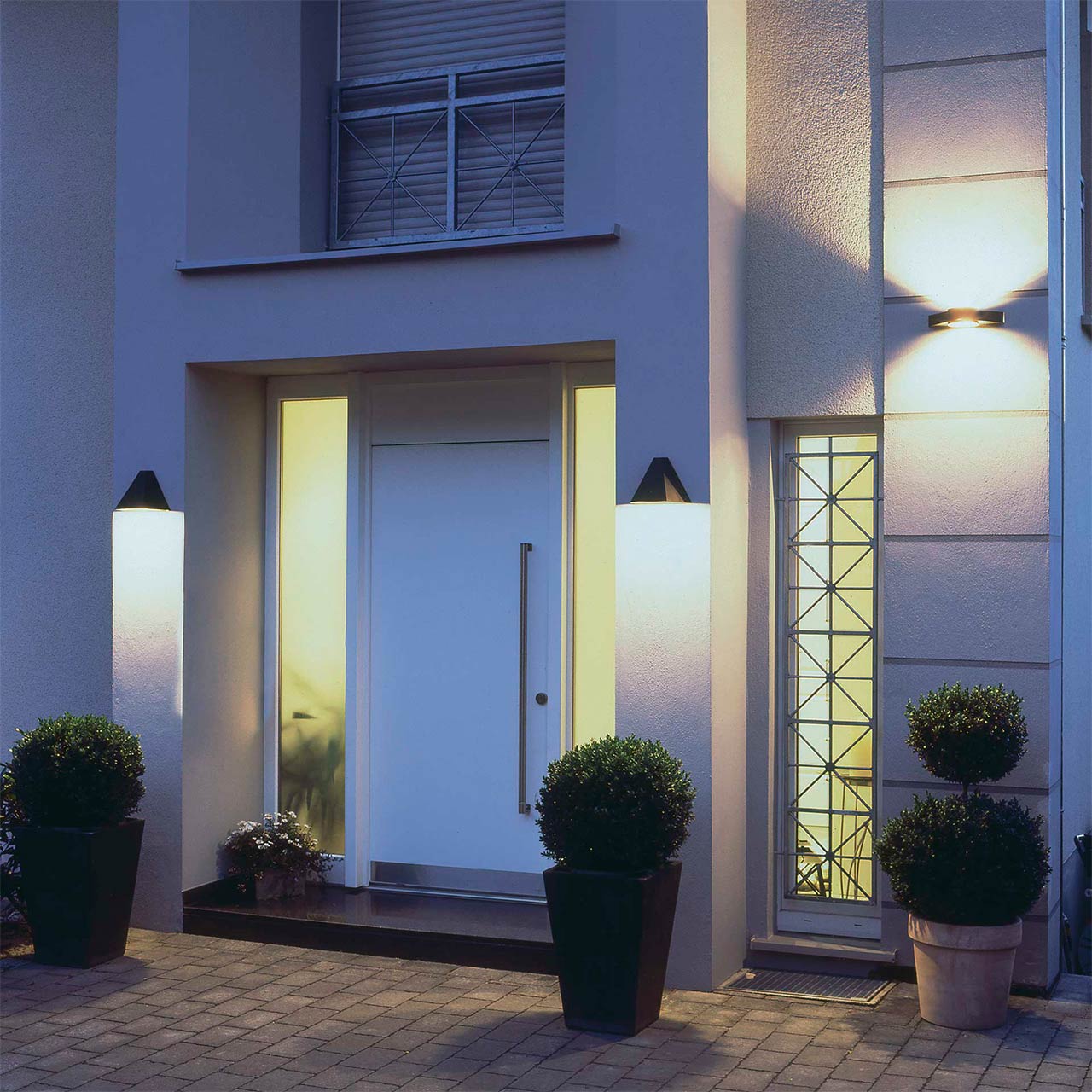 Beautiful LED wall lights with two-sided light emission
In addition to all common types of wall lights and house number lights, we also carry wall lights with two-sided light emission. The highlight: depending on the model, you decide for yourself at which angle the light cone should emerge.
Wall luminaires with two-sided light emission promise particularly impressive illumination of facades. Their purpose goes beyond that of a purely decorative luminaire. The bundled light beam is still bright enough so that the safety aspect does not fall by the wayside.
For even more design freedom, we also manufacture wall luminaires where you can control the light distribution on both sides yourself. This works in a radius of up to 60 degrees.
Albert LED wall lights for outdoor use will save electricity
Did you know that the price of electricity in Germany has risen by 69 percent since 2004? With this development, it makes perfect sense to question your home's electricity consumption. Say goodbye to high-consumption light bulbs on the outside, too. Instead, opt for products with modern LED technology.
As a pioneer in this field, we exclusively manufacture energy-saving outdoor wall lights. With our models, you can easily replace the LED bulbs yourself if necessary. LED technology also has advantages in terms of lighting effect. Choose whether you want your LED light to shine in warm white (3,000 Kelvin) or white (4,000 Kelvin).
Warm white light does a great job of bringing out the texture of a house facade. Neutral white light is even a little brighter and more powerful. However, the eco-balance of our LED lamps is excellent in both cases.