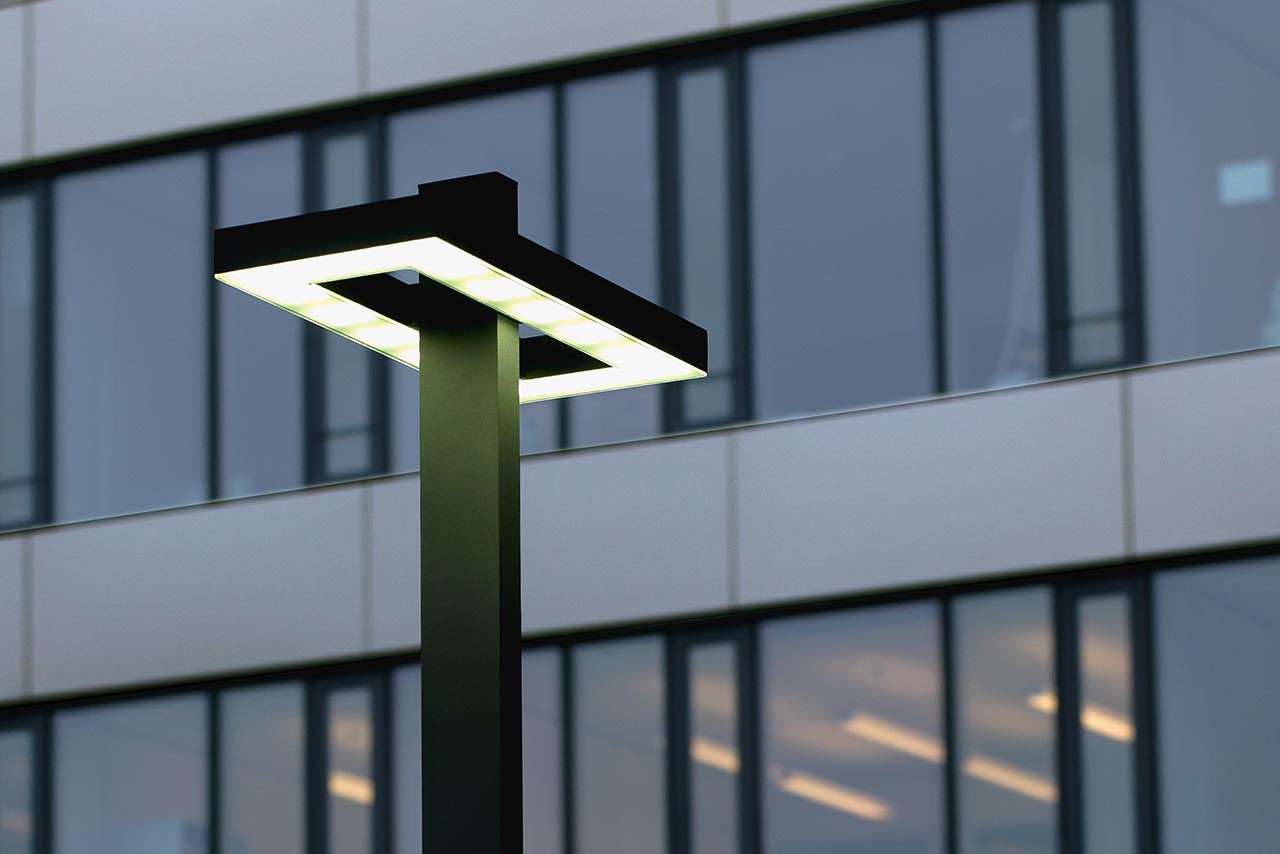 Outdoor luminaires for the front entrance – security in style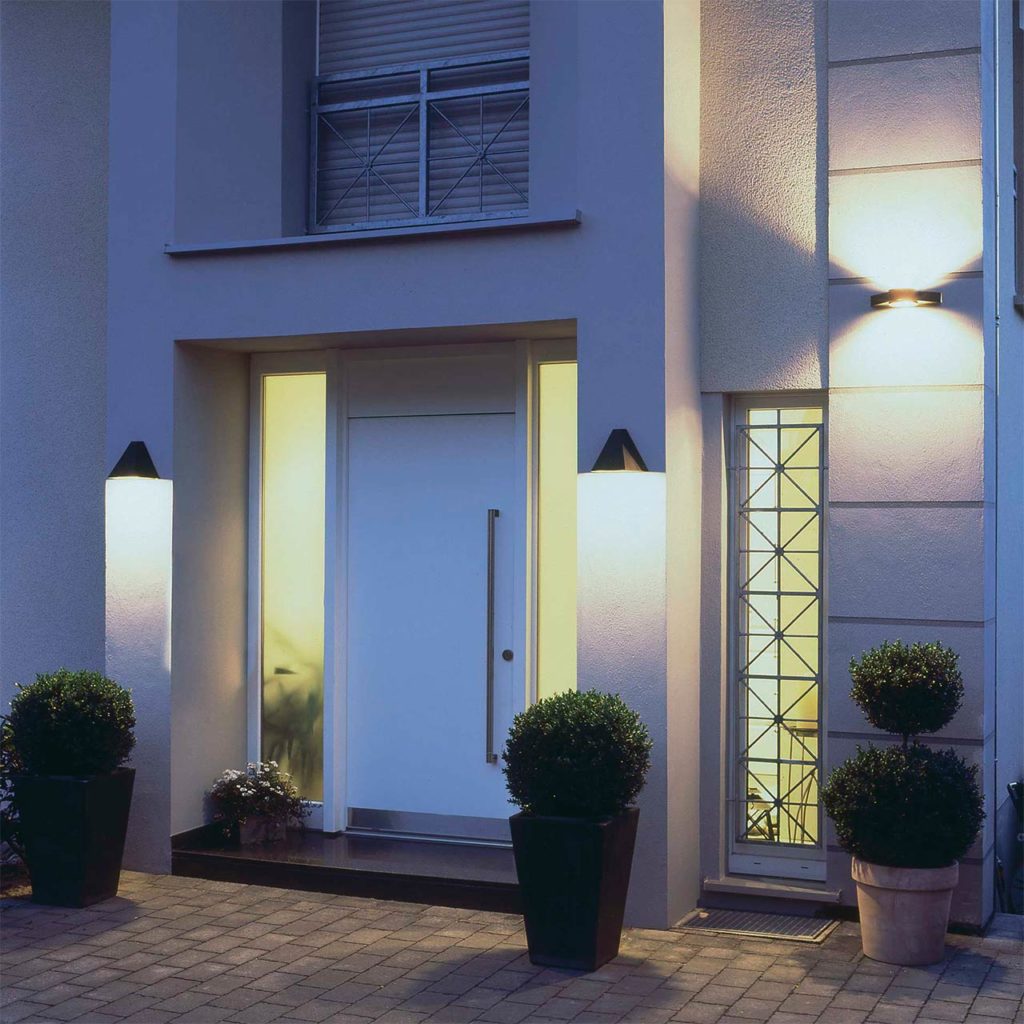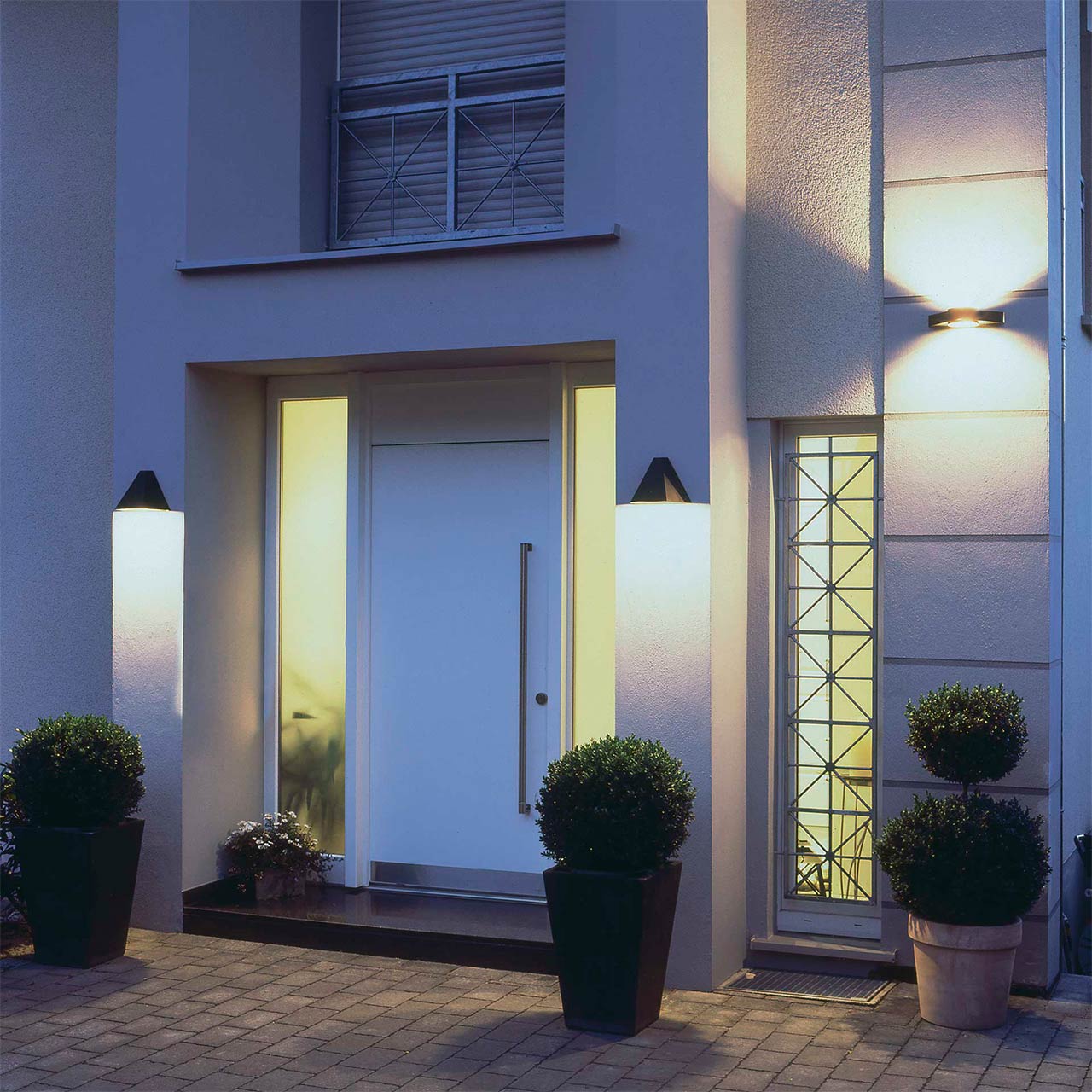 Entrance luminaires with and without motion detectors: a safe bet
Outdoor luminaires for house entrances ensure the safety of residents and guests. When coming home in the dark, the luminaires illuminate the entrance area and make tripping hazards easily recognisable. At the same time, luminaires around the front door are ideal for effectively presenting the entrance area of your home. We tell you what you should consider when choosing an outdoor luminaire for the front door.
Our outdoor luminaires make your entrance a safe highlight
An outdoor luminaire for the house entrance bathes the front door, letterbox and garden decoration in a bright and friendly light. In this way, house entrance luminaires provide more safety and a better overview. Steps and adjacent walkways are optimally illuminated and tripping hazards – such as children's toys lying around – are better seen. Bright entrances also act as a deterrent to thieves.
Outdoor luminaires with motion detectors are particularly practical. When you come home from work or shopping, the light switches on automatically. All the built-in sensor has to do is detect your arrival.
After you have entered the house, the light switches off again as if by magic. Such lights offer a lot of comfort in the entrance and also help to save energy.
Outdoor luminaires at the entrance for the wall
Luminaires for the house entrance are classically installed directly on the house wall. By installing them at the height of the upper door edge, you achieve optimum illumination of your house entrance. This works both with wall-mounted spherical luminaires and with luminaires made of cast aluminium. These are produced by Albert Leuchten in square or round format.
As an established manufacturer of high-quality outdoor luminaires, we offer you a variety of different luminaires for the entrance area. If you prefer a modern lighting concept, then take a look at our stainless steel outdoor lights. Also our bicolour luminaires are in great demand, which feature a timeless colour mix of anthracite and stainless steel.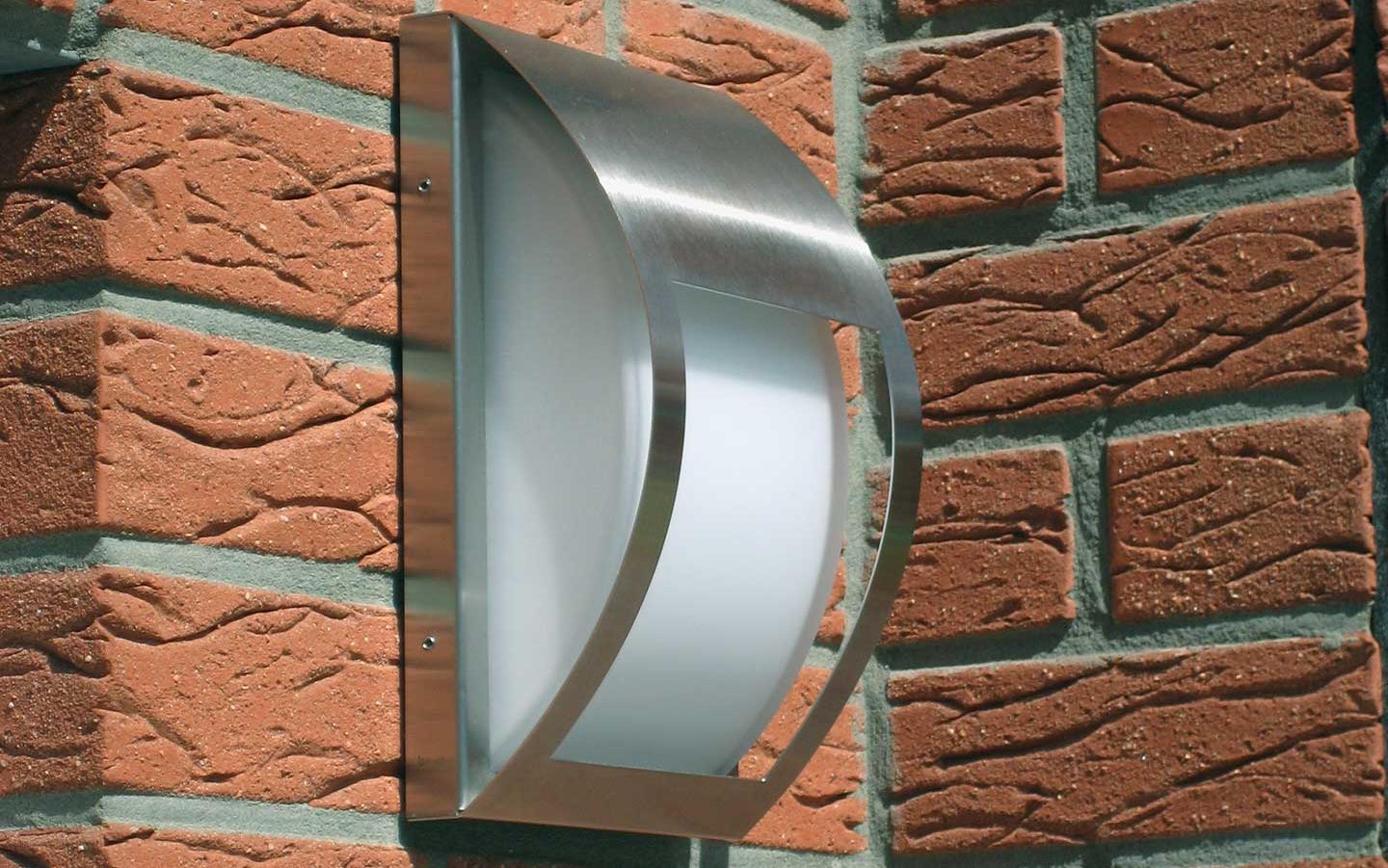 Entrance lights for ceiling mounting
You don't want to mount your outdoor luminaire for the house entrance directly on the wall? Then Albert Leuchten also offers you products which you can mount on the ceiling or roof overhang. With our recessed ceiling spotlights, you can create visual highlights and illuminate your front door from above.
Does your house entrance have a canopy? Then you can simply install our rotating and swivelling spotlights or other ceiling spots from our range there. These luminaires can be aligned individually. This way, you can perfectly highlight flower pots, wall-mounted decorations or seasonal ornaments.
Outdoor luminaires in country house style – everlasting favourites.
If you love classic shapes, Albert Leuchten offers a wide range of country house lights. Embellish your house entrance with a luminaire in the classic lantern shape. Or alternatively choose another model in black-silver, brown-brass or white-gold.
With these timeless classics, you will add nostalgic flair and rustic charm to your home entrance area. We manufacture our country house lights according to historical models. Nevertheless, ultra-modern and energy-saving LED technology works inside these luminaires.
LED outdoor luminaires at the entrance – energy-saving and long-lasting
We at Albert Leuchten want you to enjoy your new outdoor luminaire in the entrance area for a long time. For this reason, we rely on long-lasting and low-consumption LED components during production. Our LED lights help you to keep your electricity costs as low as possible. Compared to conventional incandescent lamps, LEDs consume only a fraction of the energy.
In addition, LED light sources are extremely solid. Our high-quality components have an average life expectancy of several 10,000 hours. And should one of our long-lasting bulbs burn out, you can replace it yourself within minutes thanks to retrofit or replaceable LED components.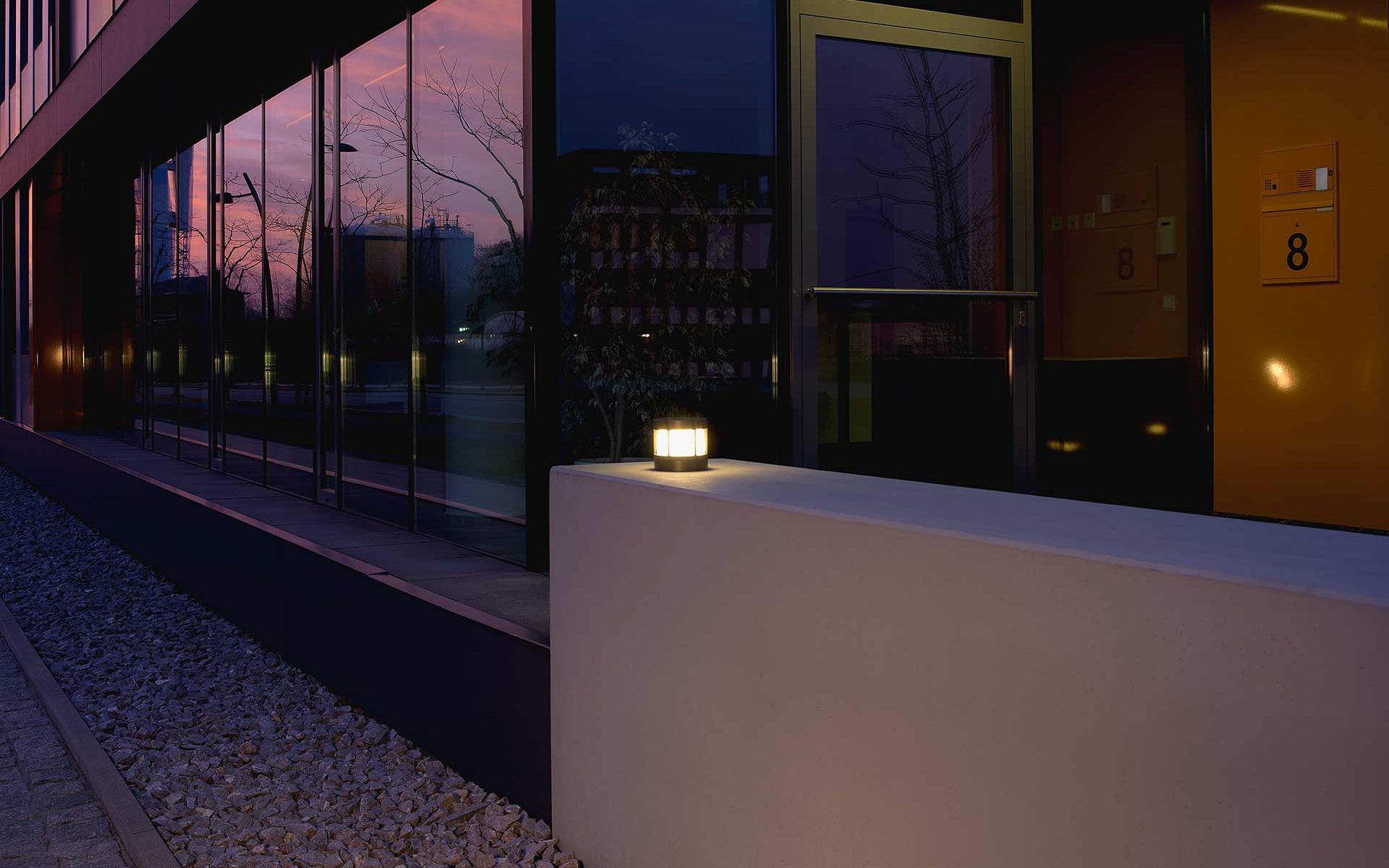 Albert house entrance lighting – from classic to innovative
We produce ball lights, house number lights, ceiling spots and country house lights. With all products from our Fröndenberg factory, you can make your entrance area friendly, bright and inviting. A large proportion of our high-quality metal goods are manufactured in-house. That's why we guarantee you a years-long replacement guarantee on all wearing parts.
In addition, you can be sure that our outdoor luminaires for house entrances are technically sophisticated lighting solutions. Once installed, the luminaires will work with maximum efficiency for years. Finally, we are also at your side with advice and assistance when planning complex lighting ideas. You can therefore rely on convincing lighting solutions "made in Germany" – conscientiously produced by Albert Leuchten.