Energy Columns (configurable)
Albert energy columns – professional power supply for camping and garden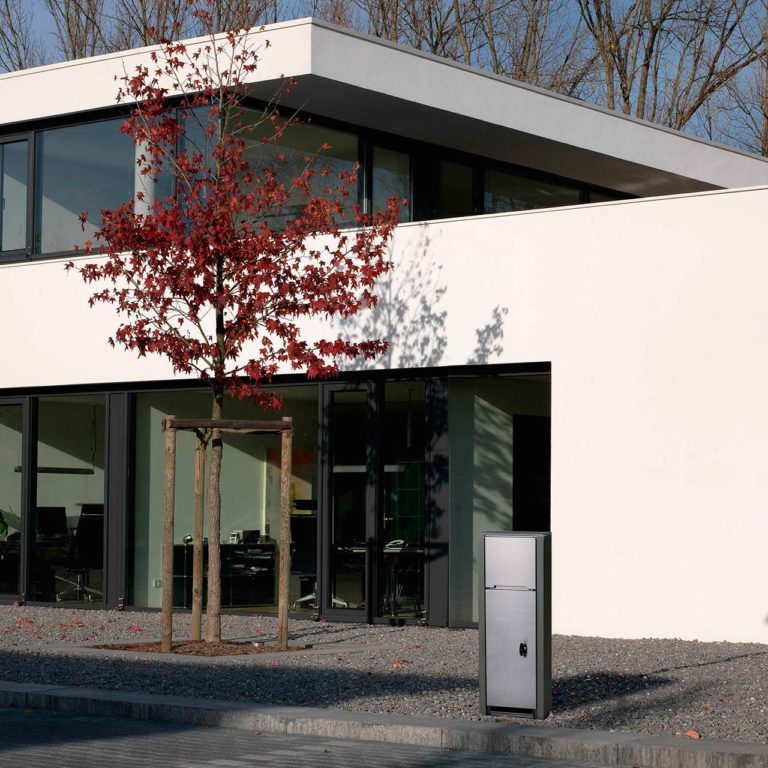 With energy pillars from Albert Leuchten, you always have electricity ready in the outdoor area. We have designed modular power columns for commercial and private use, which you can configure according to your own wishes. So you can use our energy columns outside in private areas simply as a garden socket. Charge electric vehicles such as e-cars, e-bikes or e-scooters, connect lawn mowers and other garden tools or supply a camper van site with electrical energy.
With an e-pillar from Albert Leuchten, you electrify both your property and your vehicle fleet. Because the range of applications of our power columns is greater than that of a socket column with purely earthed sockets, energy columns from Albert Leuchten are even suitable for use in industry.
Albert energy columns: practical power supply for mobile homes
Even camping fans do not want to do without the benefits of a power connection on vacation. That's why many tent and camping sites have energy columns available on the sites. These offer the camping vacationers then various possibilities of the current withdrawal.
For example, you can operate an electric grill or your tent lighting via normal grounded sockets. Meanwhile, a blue camping plug can be used to supply power to motor homes, caravans and mobile homes, for example for the refrigerator or the television on board.
Reliable technology in a robust housing
Many of our products in the energy management systems range are made of stainless steel and aluminum. This also applies to our socket columns. Their discreet and timeless design adapts perfectly to different installation scenarios without appearing dominant.
With their durable housing, the outdoor energy columns are weather-resistant and long-lasting. You can get the pillars with outdoor socket from Albert Leuchten in different sizes and in the colors black, anthracite and stainless steel.
Power columns – protected against splash water and dust
In compliance with the highest IP protection classes, we shield all contacts of our power columns against splash water and the ingress of foreign bodies. Safety is a top priority for energy columns from Albert Leuchten. That's why we even offer energy management systems with integrated small distribution boxes, which are even protected against water jets from any angle via protection class IP 65.
Individual energy column equipment for every application
Inside the energy columns for outdoor use, we integrate high-quality components. Like all Albert products, the components used in our energy poles are subject to strict quality control.
Albert energy columns for outdoor use can be configured according to your individual requirements. Put together your individual design now and choose the right format from various protective contact sockets.
Energy columns offer the possibility to distribute electricity on various outdoor areas. Whether camping sites, parking lots or private parking spaces. With an energy column from Albert Leuchten you are optimally equipped in any case. The robust and shapely energy management systems combine power connections in the form of normal protective contact sockets, blue camping plugs and more. With an additional mobile adapter, you can even charge e-cars on them.
If required, we can equip the power columns with up to seven inserts. Choose your required power supply from all common socket formats and order your energy column with water connection, water tap and stainless steel flex hose with ½ inch diameter on request.
Optionally, equip your new energy column with one or more 3-pole CEE built-in socket outlet(s). This turns the outdoor power pole into a practical multifunctional device for camping enthusiasts and owners of mobile homes and caravans. We are also happy to install power plugs (5-pin, 400 volts) or an e-bike socket with increased contact protection for you.
For commercial use, we also offer versions with distribution boards and residual current circuit breakers. These pillars are particularly suitable for installation on campsites, event areas or public parking lots.