Free-standing letterboxes
Free-standing letterbox by Albert Leuchten - spacious & solid
A pillar mailbox with newspaper holder and stand offers a lot of space for your mail. This advantage is mainly used by households and companies that regularly have to deal with a high volume of mail. This is why pillar mailboxes are often placed in front of houses with several parties or in front of business premises.
You do not necessarily have to install your new pillar mailbox directly in front of your front door. The variable choice of location for your freestanding letterbox offers many possibilities. You can enhance the entrance area of your office or shop with a letterbox from Albert Leuchten. This saves the postman from having to walk long distances.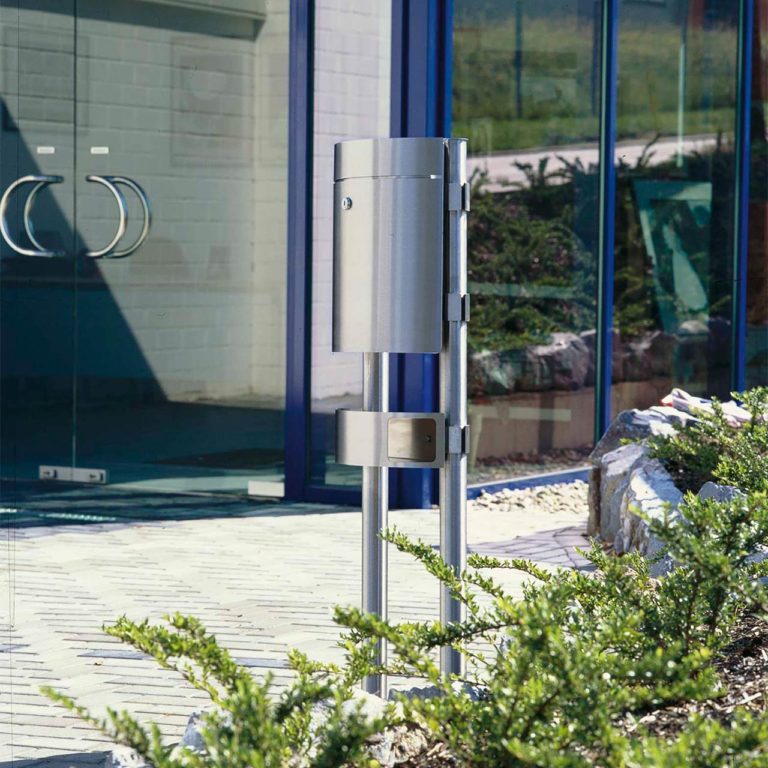 Stand-up letterbox for your company premises
Large letterboxes are very visible and cannot be overlooked. This way you can be sure that your daily mail ends up where you want it. Especially on larger company premises, a central point for dropping off mail makes sense.
Postmen appreciate free-standing mailboxes because they offer space for a high volume of mail. Daily visits to the head office or reception are no longer necessary. This also relieves your staff of time.
Albert freestanding mailboxes – modern look, made entirely of stainless steel
Our free-standing letterboxes are made entirely of stainless steel, from the letterbox flap to the base. This choice of material ensures that your free-standing mailbox remains weatherproof and rust-free – for many years to come. The robustness of our mailboxes is no coincidence. Albert Leuchten has 70 years of experience in the production of stainless steel products.
That's why all our mailboxes are mature and high-quality products. In addition to all the technical finesse, we do not forget during production that your mailbox should also look brilliant. For occasional cleaning, we recommend our special care cloths for stainless steel surfaces.
Our free-standing letterboxes – well protected from rain and thieves.
With the letter slot from the top and a lockable removal flap, your mail stays safe and dry in a floor-standing letterbox. The reliable stainless steel lock works precisely. It ensures that unauthorised removal of your mail is virtually impossible. Every letterbox from Albert Leuchten is supplied with two keys.
Albert floor-standing letterboxes – modular concepts for many locations
At Albert Leuchten, you do not purchase your letterbox in a complete package. Rather, depending on the installation location, you can flexibly consider which components you need for your free-standing letterbox. The post box is indispensable. It offers plenty of space for your letters, magazines, postcards or even small parcels and packages.
As a third component, you can equip your free-standing letterbox with a newspaper compartment. This is attached to the letterbox stand underneath the letterbox. Stands with an attachment option for newspaper rolls are already provided with the appropriate drill holes. The installation of the newspaper holder is therefore done within a few minutes.
Letterbox stand for fixed mounting of your floor-standing letterbox
When choosing the appropriate letterbox stand, you decide in advance how you want to mount your model. You can mount your floor-standing letterbox on a foundation or buy a version to be set in concrete.
You can have the extended letterbox stand fixed directly into the brickwork by a specialist tradesman, which increases the stability of the construction. The shorter stand version for mounting on a foundation also ensures maximum strength. It is also resistant to storms and other inclement weather.
Albert letterboxes in country house style – a homage to the "good old days".
As we all know, tastes differ. Perhaps our modern stainless steel letterboxes do not fit in with the decorative concept of your driveway, garden or entrance.
Do you prefer the classic country house style? Then we at Albert Leuchten also offer freestanding English pedestal mailboxes. These high-quality products are not made of stainless steel, but of solid cast aluminium.
With this wear-free material, we achieve a tasteful retro look. This is further emphasised by numerous ornaments on the floor-standing letterbox. The well-known post horn must not be missing as an element. In addition, we have added ornaments in vintage style and the inscriptions "newspaper" and "letters".
Our letterboxes in country house style are delivered with a refined steel lock including two keys and matching accessories. We offer "Retro" type letterboxes in black-silver, brown-brass and white-gold.
Take advantage of this wide range of colours. Design the outdoor area of your company or rental property individually. Even though a large part of modern correspondence is sent by e-mail. You should never do without a letterbox.