House numbers with lighting - compulsory in many federal states
Albert Leuchten offers house number lights in many different designs. On request, we supply lights with twilight switch, rotary dimmer or laser engraving. Let us inspire you with our range of products.
In the federal states of Berlin, Brandenburg and Hamburg, the illumination of house numbers at night is required by law. With a house number light from Albert Leuchten, you are on the safe side not only in these regions of Germany. With products from Albert Leuchten, you can rely on durable quality goods "made in Germany".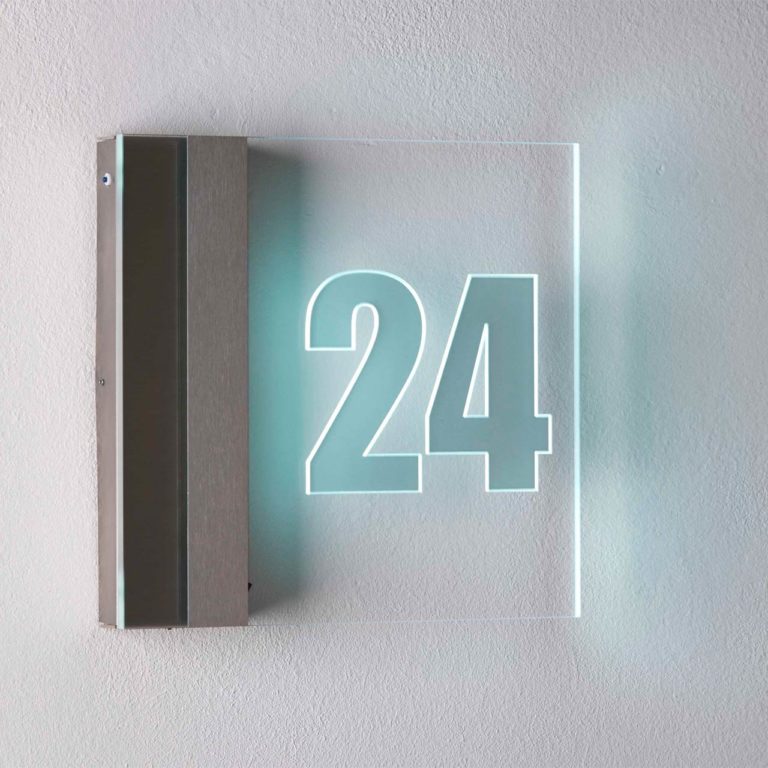 House number lights as an eye-catcher at your front door
Illuminating a house number puts your front door area in a completely different light. Such an atmospheric ambience can be achieved with a combination of spotlight and house number sign. Another alternative is the house number light from the Albert Leuchten product range.
Choose an illuminated house number made of cast aluminium and opal glass. We offer these in black, white or silver. Powerful compact fluorescent lamps with energy-saving LED technology illuminate your entrance area.
Choose between the light colours warm white (3,000 K) and white (4,000 K). We at Albert Leuchten also have matching and weatherproof house numbers for gluing in our range. You will find these products in the category "House numbers & adhesive numbers".
Individually lasered house number for more personality
Would you like to give your house entrance a special personal touch? Then you are sure to find the right product in our range of wall and ceiling luminaires with insertable aluminium sheet. The individually lasered house numbers in anthracite or black form a visually appealing unit with the matching house number light. The same applies to our stainless steel house number lights, which we laser-engrave with your house number.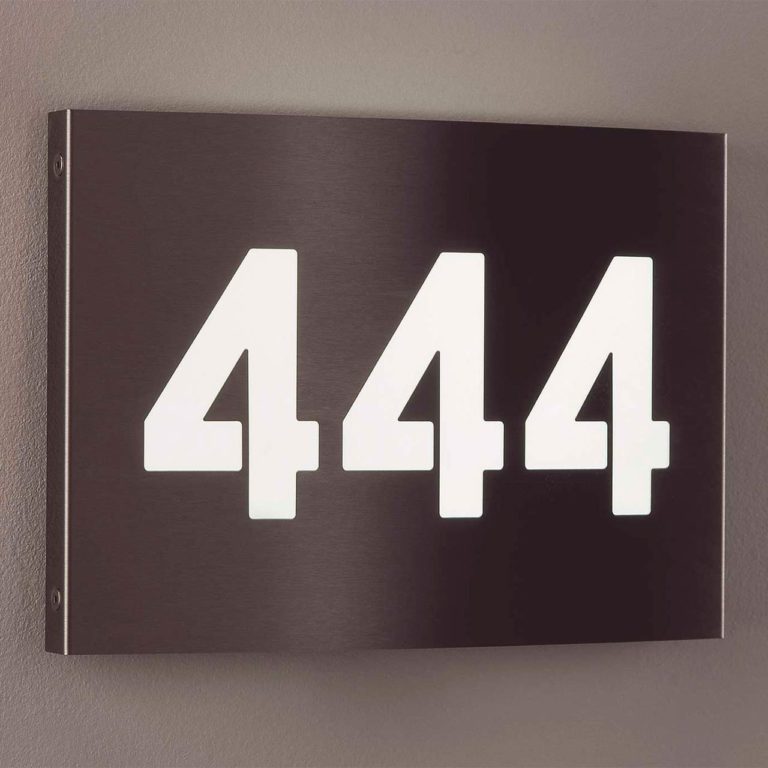 LED house number lights with energy-saving effect
Whatever your preferences may be – with house number lights from Albert Leuchten you always rely on technically mature products. Thanks to modern and replaceable LED components, our outdoor light with house number is economical in consumption. With IP44 protection, it is also resistant to splashing water and solid foreign bodies ≥ 1.0 mm.
With LED lighting, you save up to 80 percent in electricity consumption compared to conventional incandescent lamps. This is, of course, noticeable in your wallet. If you also convert other outdoor light sources to LED technology, the savings potential increases accordingly. At Albert Leuchten you will find the right products for such a project.
More convenience with house number lights with twilight switch
Our house number lights with twilight switch offer an additional comfort function. Here, the light is automatically switched on when darkness falls and switched off again at dawn. We also have models with rotary dimmers that allow you to adjust the light intensity according to your personal preferences. We have marked products with these features in our general catalogue with corresponding icons.
This marking also shows you which of our LED house number luminaires have a replaceable light source installed. Our LED components have a service life of many years. Nevertheless, it may become necessary to replace the LED light source in the course of time.
With replaceable LEDs, you can carry out this repair yourself in a few simple steps. For the required spare parts, Albert Leuchten assures you of a years-long after-sales guarantee.
Albert house number lights made of glass and stainless steel
Every house entrance is individual. We would like to offer you maximum choice in design. For this reason, the range of our house number lights is very extensive, but by no means confusing.
If you like clear design languages, then take a look at our house number lights with lasered opal glass. This product line inspires with a special elegance. The house number engraved in the glass seems to literally float in the air.
Are you looking for another way to beautify your house entrance? Then choose our recessed wall lights with house number plate. With this model made of Makrolon® polycarbonate, the house number light is recessed directly into the house wall.
This makes these lights inconspicuous in a positive sense. They are also very easy to clean. Their simple aluminium frame rounds off the harmonious design.
Take a look around our website for suitable LED house number lights for your property. At Albert Leuchten, you are sure to find a model that meets your personal requirements.