Albert newspaper holder - for newspapers & magazines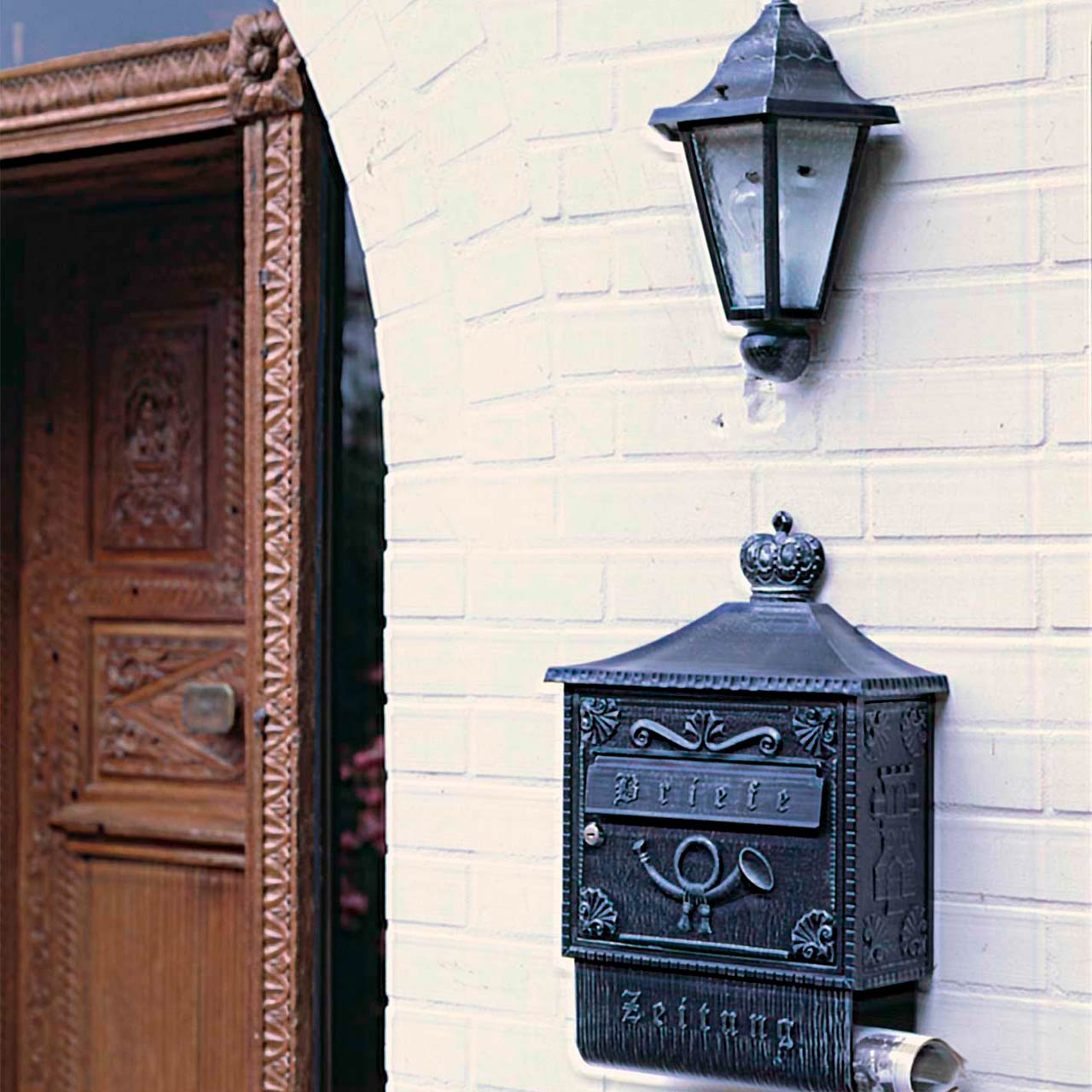 This is the only way to avoid starting the day with a dripping wet nuisance. In a high-quality newspaper roll or a wall-mounted letterbox with integrated newspaper compartment from Albert Leuchten, your newspaper is well protected at all times.
Even in the 21st century, the internet has not yet displaced the daily newspaper. Millions of people in Germany find the latest news in paper form in their newspaper roll every morning – hot off the press and worth reading.
But many other press products also end up in the newspaper pigeonholes. Because of their format, journals, magazines or illustrated papers rarely fit into a standard letterbox.
The same applies to larger direct mail items. Postmen and newspaper carriers are looking for a safe place to put them. With a newspaper box, a newspaper roll or a letterbox with a newspaper holder, you can provide this.
Albert newspaper holders for outside – practical, chic and durable.
Our selection of newspaper boxes will turn your front entrance into a tasteful eye-catcher. The products made of indestructible stainless steel convince with a timeless elegance and are also very practical. This is ensured by the well thought-out design of our newspaper rolls and letterboxes with integrated newspaper compartment.
With their clear design language, newspaper boxes by Albert Leuchten fit perfectly into the design of your entrance area. At the same time, our products never appear gaudy.
Among other things, we use stainless steel as a material in our manufacture. This has clear advantages in terms of both appearance and material. We match our metal goods optically to other products from Albert Leuchten. That's why our letterboxes, lamps, newspaper holders & Co. always fit together perfectly.
The advantages of a high-quality stainless steel newspaper holder
You will find a wide range of newspaper rolls in the trade. They are available either as an addition to the letterbox or as a separate container for your daily newspaper. There are newspaper holders made of wood as well as newspaper boxes made of plastic.
Both materials have their charm. However, they can become brittle and unsightly over time due to moisture or heat. If you want to buy a newspaper holder, it is better to choose a model made of stainless steel or cast aluminium. These materials are rust-proof and durable. In addition, stainless steel in particular looks very elegant due to its smooth surface and is also easy to clean.
Stainless steel also remains durable in winter. Simply treat your newspaper holder with our special care cloth from time to time. This way, you will enjoy the product for a very long time.
Semicircular, angular or cylindrical – our large selection of newspaper holders.
At Albert Leuchten, you can choose the right model for your personal taste. We have newspaper holders, newspaper rolls and wall-mounted letterboxes with an integrated newspaper compartment. You can even place our floor-standing mailbox with separate newspaper compartment directly in your courtyard driveway. This will save your newspaper delivery person a long walk.
Would you prefer to mount your newspaper holder outside on the wall next to the front door? Then opt for a wall-mounted model including accessories. Albert Leuchten also offers mailboxes with integrated newspaper holders. Of course, we also stock individual newspaper rolls to complement your existing letterbox.
Everlasting classics: newspaper holders in English country house style
Do you like playful details instead of smooth surfaces? Then we recommend our English letterbox with matching newspaper roll. The cast aluminium model is available in three exquisite colours: black-silver, brown-brass or white-gold.
In contrast to Albert newspaper holders made of stainless steel, the country house models are decorated with loving details. The classic post horn directly on the letterbox should not be missing, nor should the lettering "Newspapers" on the newspaper roll.
The English letterbox with matching newspaper box is available from Albert Leuchten including a refined steel lock. Also supplied are two keys and the matching material for assembly.
With a newspaper holder from Albert Leuchten, you are buying a high-quality product "made in Germany". This quality feature guarantees the best protection for your daily newspaper.