House numbers & Adhesive numbers
House numbers & adhesive numbers for marking buildings.
The house number belongs to a residential building like the car number plate to a motor vehicle. Without house number plates that can be read from a distance, postmen and parcel delivery men would have difficulty finding your address.
Emergency doctors or the fire brigade also lose valuable minutes during an operation if an address cannot be found immediately. This is precisely why it is the legal obligation of the house owner in Germany to affix appropriate house number plates or adhesive numbers to the building.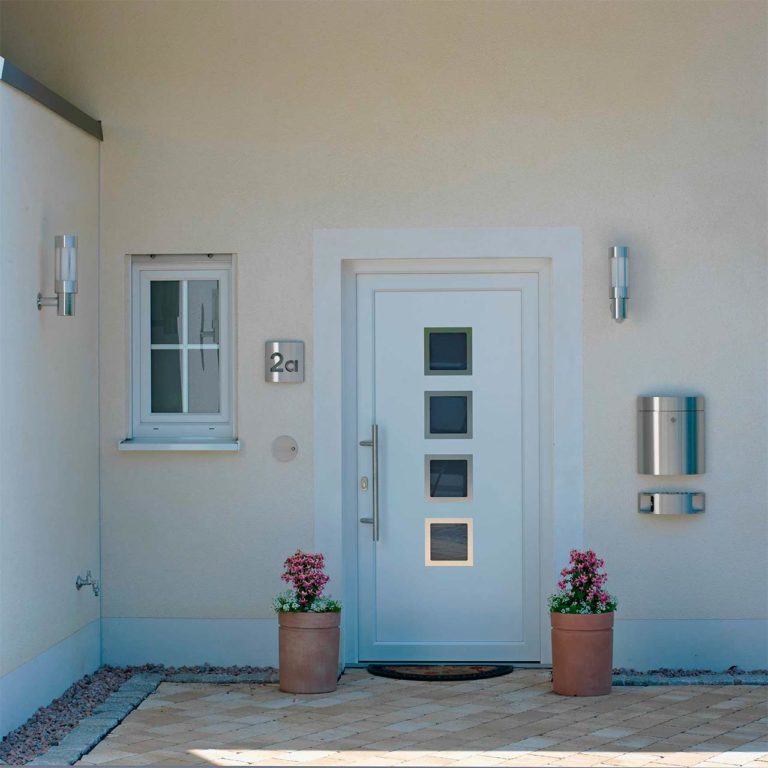 House numbers made of stainless steel – robust and elegant
Traditionally, house numbers made of brass, cast iron or enamel are used. However, the aesthetic aspect plays an increasingly important role when choosing a house number plate. That is why there are now also door numbers made of stainless steel or glass. As a manufacturer of high-quality metal goods, Albert Leuchten offers you a wide range of such house numbers.
Our classic house number signs are made of insensitive stainless steel, which can withstand any weather. We offer the numbers 0 to 9 as well as the letters a, b and c individually. This makes it easy for you to put together your own personal house numbering at Albert Leuchten.
Our house numbers with backed mounting plate made of mirror plate are lasered individually according to your specifications. We carry out this work step in our own machine park using the latest engraving technology.
Adhesive numbers for house number lights, letterboxes & Co.
You don't have space for lighting and a separate house number plate at your house entrance? Then simply combine the light source and house number in an attractive house number light. For this purpose, Albert Leuchten offers a selection of house number lights, which you can customise with corresponding adhesive numbers.
Even without a house number light, our adhesive numbers are a practical marker for your house entrance. Use the adhesive labels to individually mark your letterbox, front door or other smooth surfaces.
Stylish house number lights in three classic colours
You want your house number light to harmonise with the colour scheme of your house entrance? At Albert Leuchten, we offer you lights for house numbers in three different colourings. We produce our house number lights for adhesive numbers in black, white and silver. With a digit height of 100 millimetres, the perfectly matched black adhesive numbers are very easy to read.
Adhesive digits with a secure hold in sun & rain
It goes without saying that we ensure perfect adhesion between the adhesive numbers and the house entrance light. Our labels are waterproof and will not come off even in heavy rain or damp weather. Our house number lights are also well equipped against bad weather with IP protection class 44. They can withstand splashing water from all sides without any problems.
At Albert Leuchten, you not only get classic house numbers and adhesive numbers. We also have illuminated house numbers made of glass, stainless steel or cast aluminium. With these models, the integrated numbers are lasered individually according to your specifications.
Simply state your house number when ordering. Design your house entrance especially stylishly and with a personal touch.