Albert pedestal lights – small light, big effect
Skirting lights significantly enhance the appearance of your property. They are true all-rounders as far as their field of application is concerned. An outdoor skirting light can decorate walls and flower beds or illuminate driveways and paths. It can also provide atmospheric light on a terrace or balcony.
Thus, the half-height lights not only serve as an orientation light, but also contribute to expressive garden design.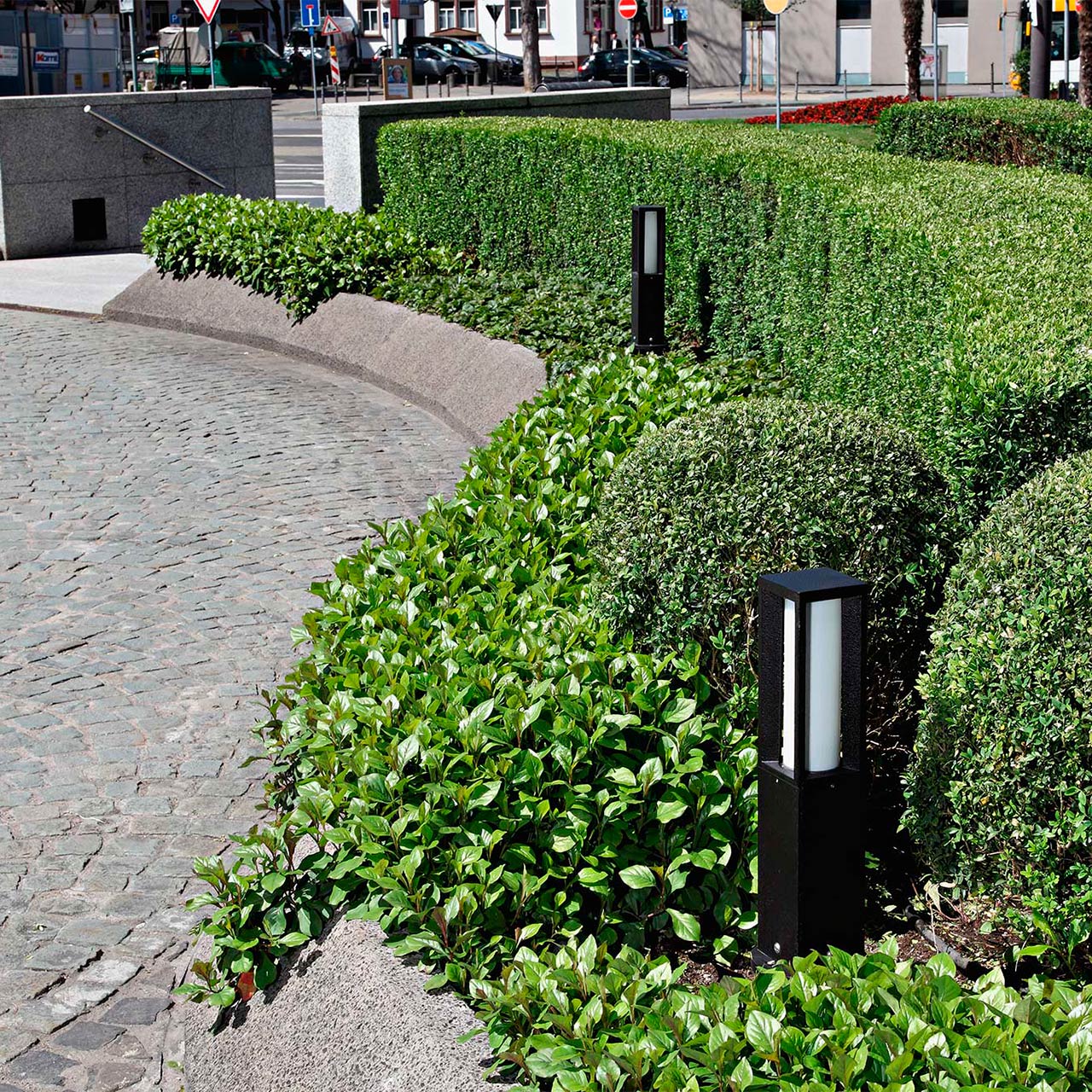 From timeless to nostalgic – pedestal lights for every taste
Because tastes are known to differ, we manufacture outdoor pedestal lights in a wide variety of designs. In the assortment of Albert Leuchten you will find modern examples made of stainless steel or cast aluminum. We also produce timeless models with angular or round basic shapes.
A further highlight are nostalgic base lights. We have modeled these on the appearance of historical lanterns. One thing is common to all models: Albert lights always impress with high quality and durability.
LED pedestal lights as decorative garden lighting
Pedestal lights provide your garden with cozy light and a special flair. Use these lights around a lounge corner, barbecue area or landing. In a courtyard driveway or on a walkway, the safety aspect of pedestal lights also takes effect. In the dark, these areas are illuminated at ground level. This prevents missteps and other accidents.
When installing several outdoor skirting lights, you should pay attention to an optimal spacing of light points. In the general catalog of Albert Leuchten, you can read about the distances at which the lights develop their best lighting effect.
This is how you influence the lighting effect of floor lights
The choice of LED light source has a strong influence on the visual ambience created by a garden light. In our assortment you can find both goods with sockets type "Retrofit" and models with replaceable LED components.
Our Retrofit Classic LED shine in yellowish warm white (2,700 Kelvin). Meanwhile, the color temperature of Albert products with LED components is 3,000 Kelvin. As a rule of thumb, the higher the Kelvin number, the whiter and more powerful the light.
The type of glass used in an outdoor light also has an impact on the lighting effect. Milky opal glass provides a particularly soft and glare-free light. Outdoor base lights with clear acrylic glass, on the other hand, bring a higher light intensity.
You can achieve a particularly nostalgic lighting effect with inserts made of cathedral glass. The deliberate refraction of light creates an almost sacred atmosphere.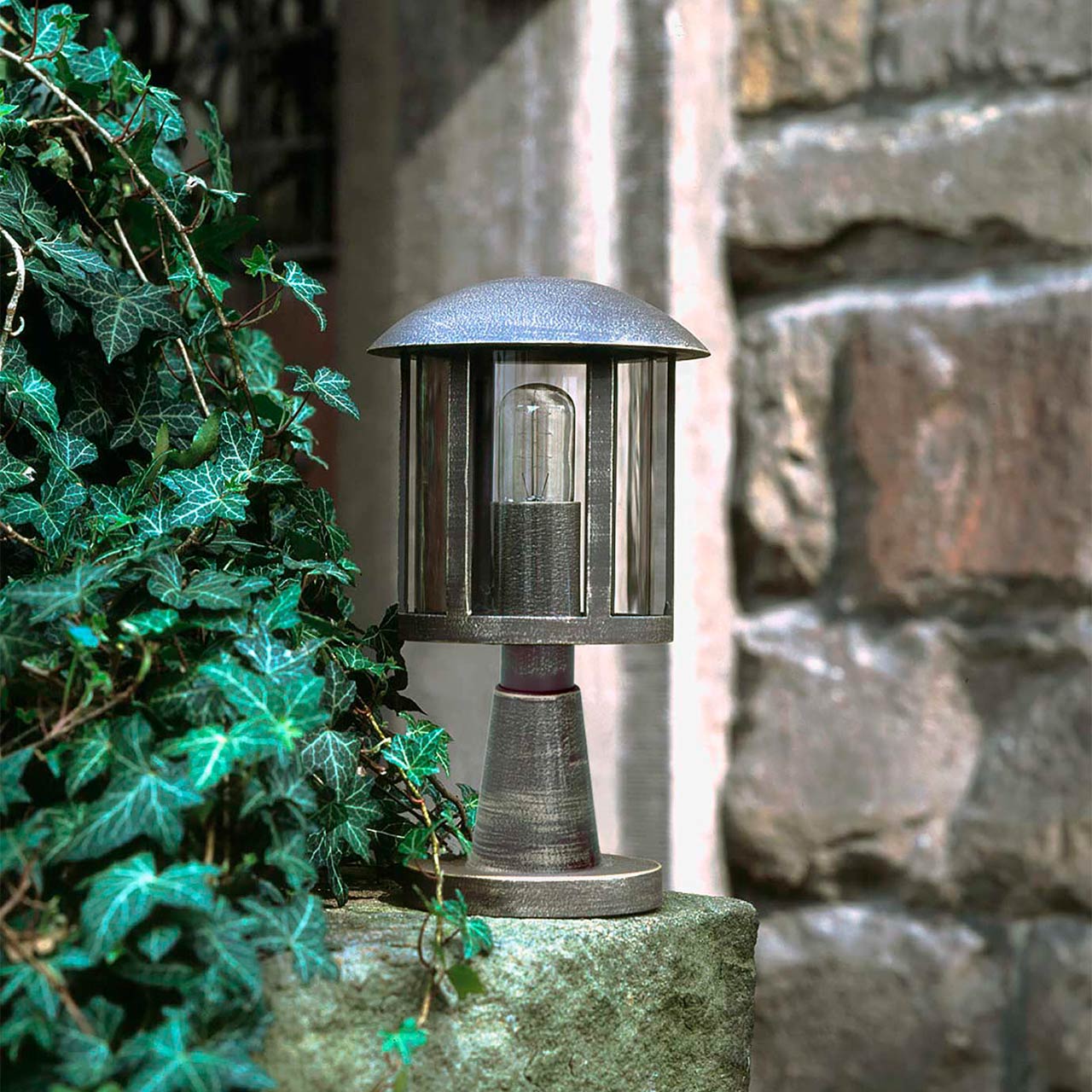 Suitable for any outdoor area – pedestal lights in many color variants
We manufacture our LED base lamps with E27 socket or replaceable LED components with great attention to detail. Only high-quality products are created in the Albert Manufaktur in Fröndenberg. Use them for the modern, classic or antique decoration of your outdoor areas.
We rely on robust and durable materials such as stainless steel and cast aluminum. We offer lamps for bases in different designs. From the timeless ball light to the round or rectangular stele, everything is included.
Historical flair for your garden: pedestal lights in country style
We sell our lantern-shaped pedestal lights in both plain design and country house style. In the latter, elaborate ornaments provide a special and old-fashioned look. This is further emphasized by colors in black-silver, brown-brass and white-gold.
You are rather looking for a base lamp in anthracite, silver, black or white? Then you will also find what you are looking for at Albert Leuchten. Browse now on our website for a base lamp, which corresponds to your personal taste!