Stainless steel – a raw material with countless advantages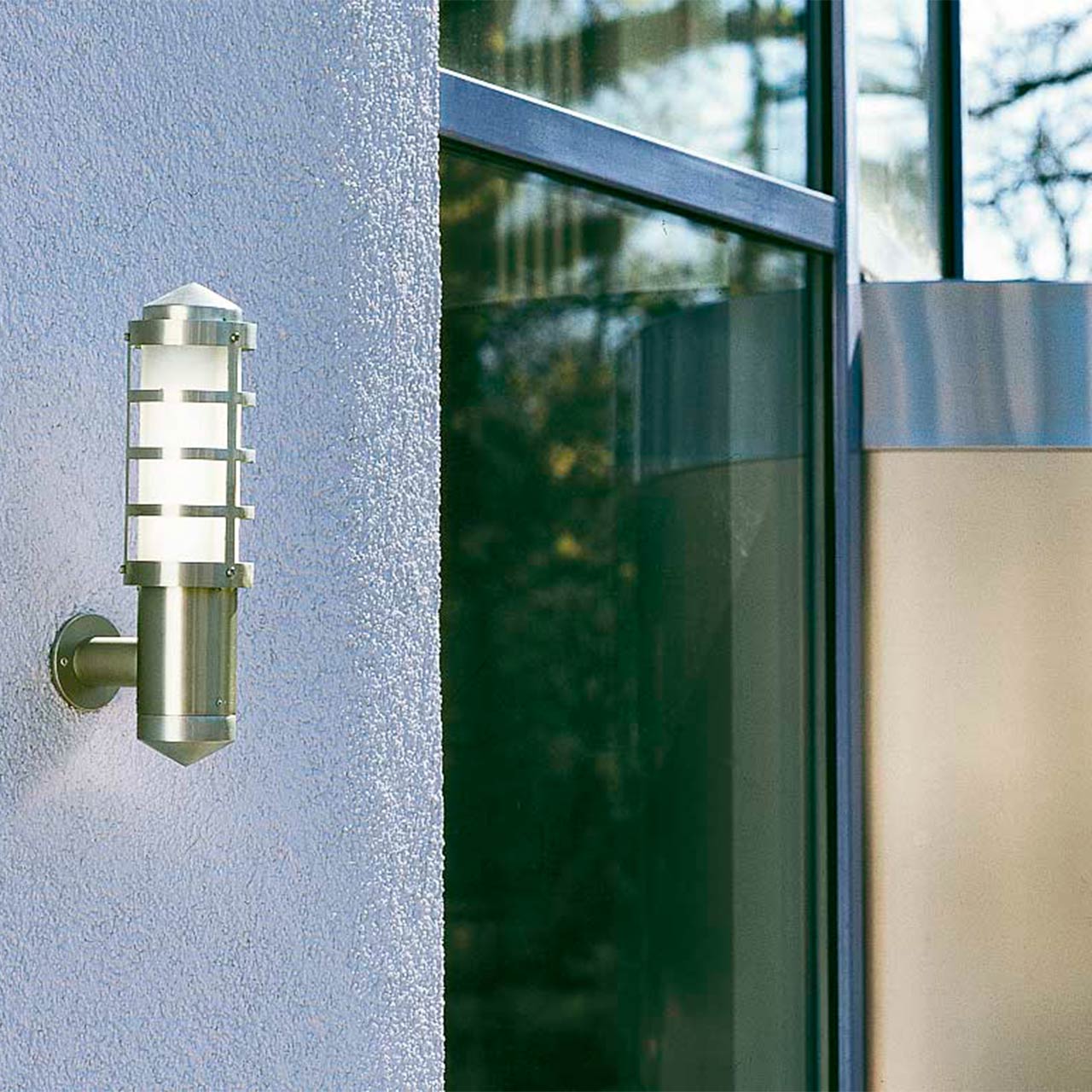 The term stainless steel covers all unalloyed or alloyed steel grades with a high degree of purity. At Albert Leuchten, we have been specializing in the production of high-quality steel and metal goods for 70 years. We use stainless steel to manufacture, among other things, outdoor lights, mailboxes, socket columns and also contemporary charging stations for e-cars.
The advantages of stainless steel are obvious: The rust-resistant material is durable, acid-resistant and low-maintenance. Strong differences in temperature cannot harm the material. With these properties, stainless steel is ideal for protecting outdoor electrical components from the elements.
Outdoor lighting made of stainless steel: timelessly beautiful and easy to maintain
The visible parts of a luminaire made of stainless steel impress with their simple elegance and smooth surface. This offers not only optical advantages: Outdoor lights made of stainless steel are absolutely timeless and never go out of fashion. The silvery exterior of our stainless steel products is also very easy to clean. Dirt has a hard time settling on the smooth surface.
Your stainless steel outdoor light or spotlight is stained by Sahara dust or lime? Then you can easily remove the stains with a care cloth. For the cleaning and care of our products we have developed a special care cloth with anti-fingerprint effect. You can purchase this from our sales partners.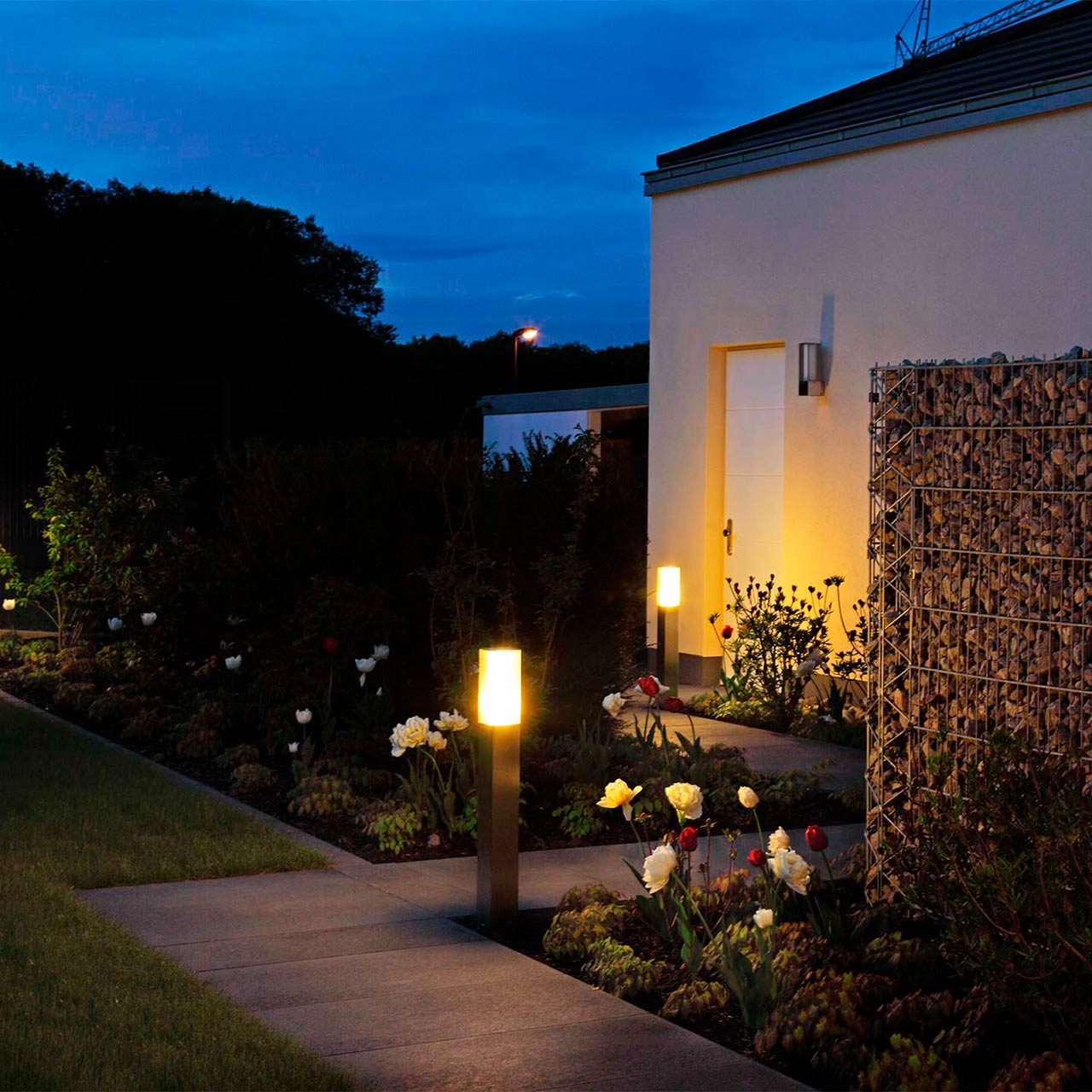 Albert outdoor lights made of stainless steel – durable classics
Besides cast aluminum, stainless steel is one of the most frequently used materials in our production. For this reason, Albert Leuchten offers stainless steel lights for countless purposes.
Equip your house entrance with a stainless steel wall light. Illuminate walkways and driveways with a stainless steel bollard or pedestal light. Or use stainless steel LED outdoor spotlights to visually delineate garden or patio areas.
Of course, we also offer matching additions to a uniform arrangement of harmoniously coordinated stainless steel outdoor lights. Browse our brochure for house number lights, bell plates and even mailboxes made of stainless steel. With products from Albert Leuchten, you have endless scope for designing your outdoor areas.
Stylish steel lamps for terraces, gardens and paths
Stable, easy to clean and robust – our outdoor lights made of stainless steel convince with highest quality and durability. Even after many years in use, stainless steel lights still look like new.
Meanwhile, the inner workings of our timeless outdoor lights impress with state-of-the-art and low-consumption technology. The illuminants of our stainless steel outdoor lights are replaceable in many cases.
For this purpose, we equip the vast majority of outdoor lights with LED components. This way, you save a lot of electricity when lighting outdoor areas. Apart from this, LED outdoor lights offer other advantages. You can choose between white (4,000 Kelvin) and warm white (3,000 Kelvin) light colors, if necessary.
For more convenience, we also offer outdoor lights with LED and motion detector. Bollard lights made of stainless steel as well as wall lights and wall spotlights with motion detector have a great advantage. The light turns on automatically when a person approaches the sensor. Thanks to this technology, finding the front door key is no longer a major challenge.
Explore our full brochure or our offer on the Internet now. Find a stainless steel outdoor light that perfectly fits your needs. Benefit from our experience in manufacturing high-quality stainless steel products "made in Germany".