Albert outdoor spotlights – for unusual lighting ideas
Spotlights and spotlights illuminate attractive areas of your outdoor facilities and immerse them in bundled cones of light. For example, you can put flower columns, art objects, trees, walls or facades in the focus of the viewer.
Illuminate prominent points of your garden. Create a magnificent lighting concept. For your lighting ideas, Albert Leuchten offers dozens of spotlights for outdoor use. Each design is suitable for a different application here.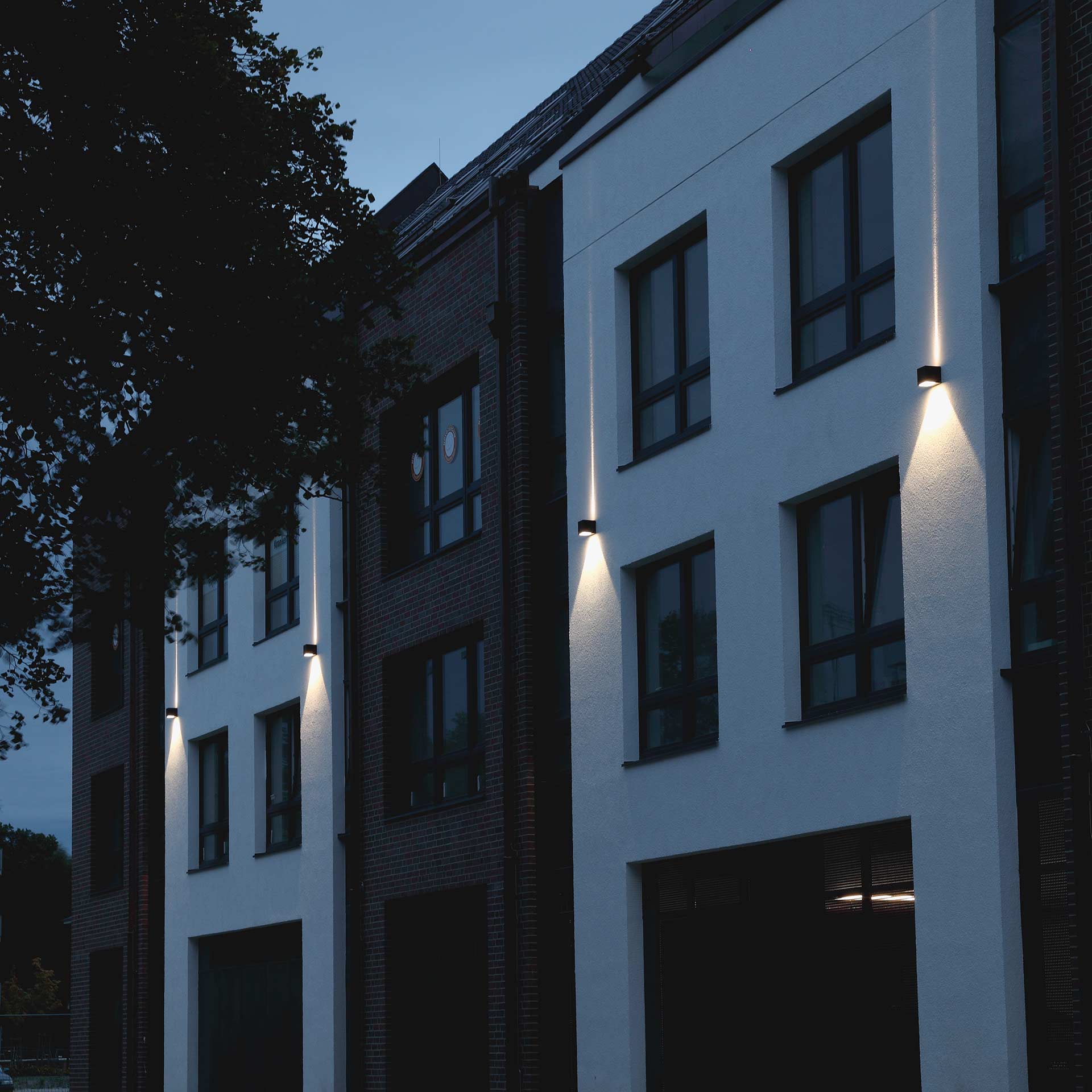 Wall spotlights for noble lighting effects on facades
Surely you have already stood at a historical castle. And looked fascinated at the illuminated walls of quarry stone, sandstone or basalt. Especially in the evening light spots unfold their effect. They ensure that facades appear particularly sublime and imposing due to the interplay of light and shadow.
This also works with exterior walls of hotels, restaurants, corporate or residential buildings. With wall spotlights from Albert Leuchten, your facade becomes a real bright spot.
To plan your personal ensemble for masonry lighting, our spotlights are suitable for wall mounting. You can achieve a particularly impressive effect with Albert wall floodlights with two-sided light emission. These outdoor spotlights with LED lamps are available from us with completely different light emission angles.
Flat, small & bright: Spotlights for recessed ceiling or floor installation
Albert recessed ceiling spotlights and recessed floor spotlights integrate perfectly into the overall visual appearance of gardens, house entrances or terraces. For example, you can have our LED ceiling lights mounted on the roof overhang. The lights also cut a fine figure on brick canopies or covered terraces.
With recessed spotlights for the ground you frame ponds, terraces, barbecue corners or play areas in the home lawn. Of course, all our ceiling and ground recessed spotlights are weather and dust resistant.
Albert in-ground spotlights can also withstand loads of up to 2,000 kilograms. This means they can also be installed on courtyard driveways, at carports or in a playground or sports field. Ground spotlights can significantly enhance certain areas outside.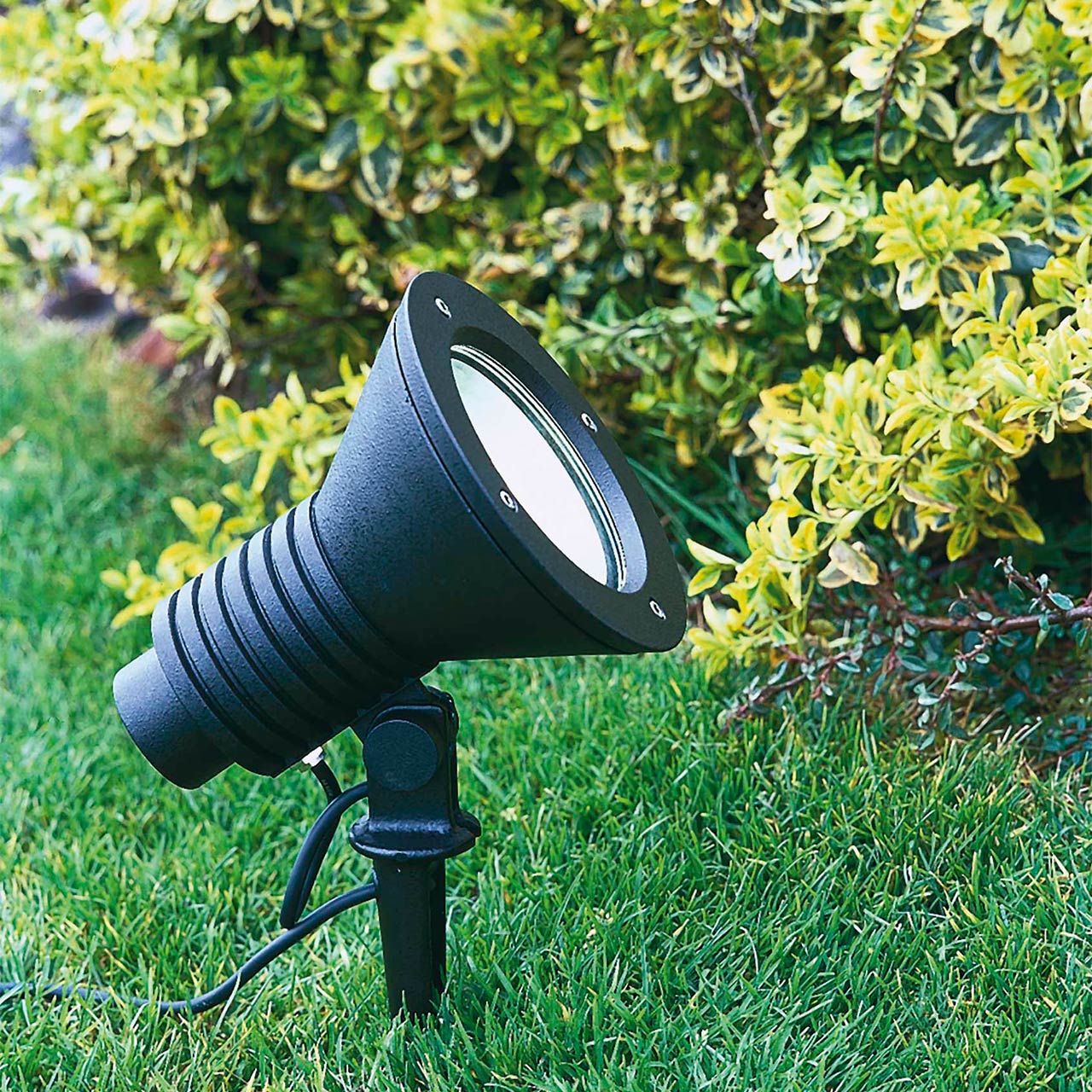 LED lights with ground spike – mobile spotlights for outdoor use
You need a mobile lighting concept in the garden, which can be changed quickly and spontaneously? Then you are well served with Albert spike spotlights. We offer the variable lights in different colors and optionally with external rotary dimmer to control the light intensity.
Most of the spit spotlights from our production are equipped with a rotatable luminous body. Therefore you can direct the light cone individually to different sized eye-catchers – be it rose bushes, statues, columns or decorative figures.
If you feel like it, then simply place our spotlight with spit more often somewhere else in the garden. Thanks to a plug and a 2.5-meter cable, the mobile spit spotlights are 100 percent variable as far as their location is concerned.
For lower power consumption: spotlights with motion detectors
Outdoor spotlights with motion detectors are in great demand, especially for home entrances. No wonder, because this type of lighting is incredibly practical. You enter the driveway to the front door and, as if remotely controlled, your wall spotlights turn on. After a few minutes, the light automatically goes out again, which significantly reduces the power consumption in the outdoor area.
But a spotlight with motion detector can do much more. If intruders or thieves approach your house, these people will be deterred if the light suddenly comes on.
LED spotlights and spots for bright light
Albert spotlights are made of high-quality materials such as stainless steel or cast aluminum. That is why the products are extremely durable. In the unlikely event of a defect, you can easily replace the installed LED components.
Here we offer you an after-sales guarantee for many years. Even the reflector lamps of our rotating and swivel spotlights can be replaced if necessary.
Albert Leuchten plays in the top league in the field of LED technology. That is why we offer you spotlights with high economic efficiency, long service life and excellent color rendering.
Browse through our product range. Discover aesthetic bollard spotlights, area spotlights, vario spotlights and small spotlights. With these products, you can implement your personal lighting concept to perfection.