Set light accents in your outdoor area with Albert ball lamps and globe lights
Spherical lights are not only used for night lighting. They also beautify the home garden. Outdoor ball lights are also suitable for any terrain of corporate buildings. Whether it's a facade, a house entrance, a walkway, a terrace or a flower bed – round lights simply look good everywhere.
A coordinated ensemble of ball lights creates a special charm. Combine our pedestal lights, bollard lights and wall lights to create a unique arrangement. Give your garden, yard or parking lot a very special atmosphere.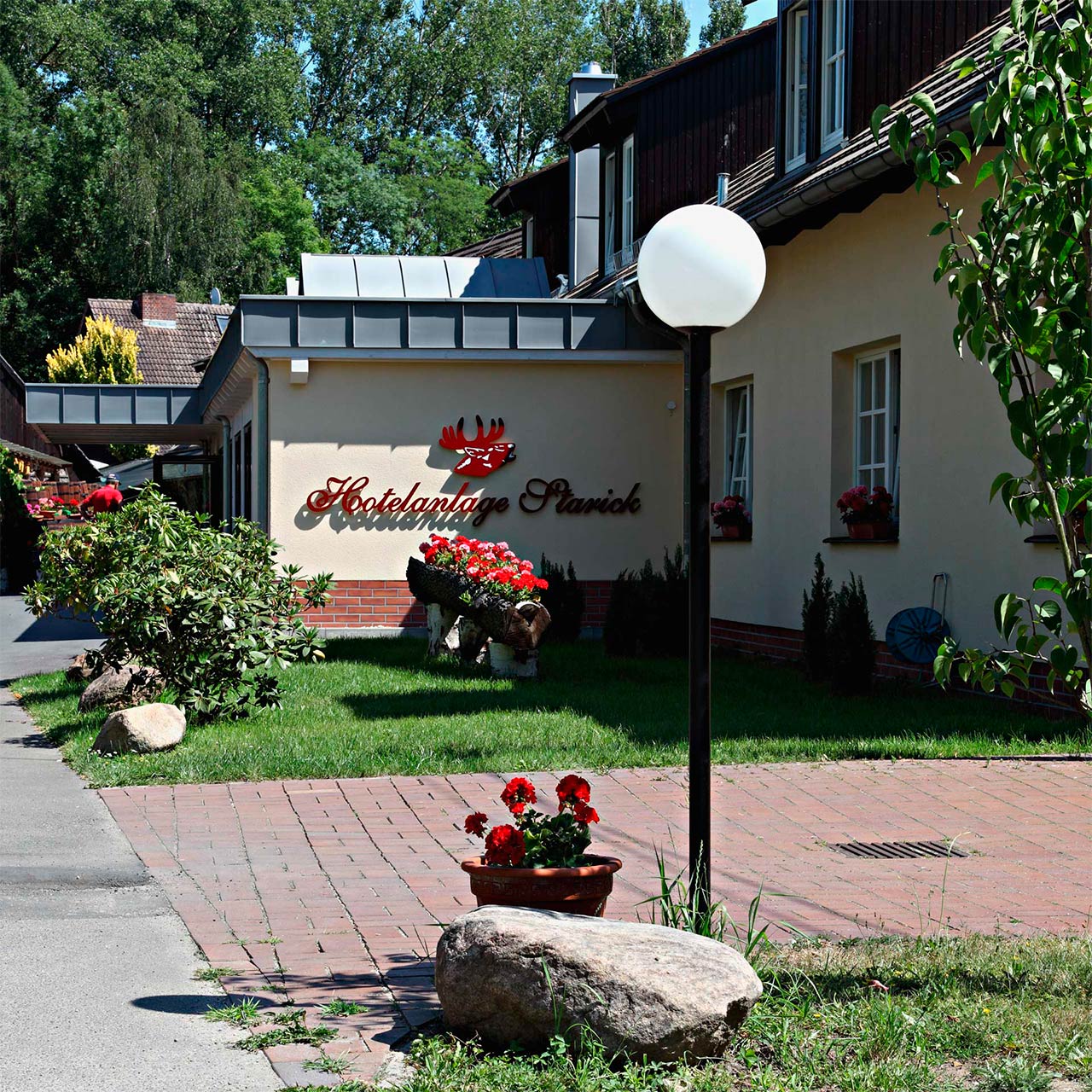 Albert globe lights for commercial and private areas
Even in front of a company building, outdoor globe lights exude timeless charm and elegance. Equip parking lots and access routes with our post-top luminaires in spherical shape. This way, you can present your company in the right light from afar. For mounting on a solid foundation, we offer you matching poles made of aluminum. As accessories, we also offer boxes for cable transitions and ground mounting bases.
Meanwhile, in private outdoor areas, classic wall lights, path lights, base lights and bollard lights designed as spherical lights are suitable. The bulbous element of the garden light you get at Albert Leuchten in different diameters and glass types. Opt for classic bubble glass, modern plastic spheres, noble opal glass or clear crystal glass. The choice is yours!
LED ball lights for outdoor – energy-saving, functional and aesthetic
Each outdoor ball light from the Albert range is equipped with modern LED technology. The illuminants are of course replaceable – they can be replaced with another version in just a few simple steps. We achieve this possibility of replacement by installing proven sockets for LED lamps in Albert lights. These can be fitted with either an energy-saving lamp or an illuminant of the "LED retrofit" type.
In both cases, the consumption values are extremely low despite optimal light output. However, you should treat this technology gently and avoid high inrush currents. Then you will enjoy our LED ball lights for a particularly long time.
For products with opal glass, they achieve a particularly harmonious light image with a tip. Simply operate them with an LED retrofit lamp type A from our range.
Country house flair or modern stainless steel look – ball lights for every taste
You would like to install a globe luminaire outside in the garden or you are looking for a holistic lighting concept for office buildings, parks or exhibition halls? At Albert Leuchten you will get exactly the product that suits your personal preferences. Our assortment of globe lights is designed to meet the needs of private and commercial customers.
For your garden or your company we manufacture spherical lights with a body made of robust cast aluminum or indestructible stainless steel. The optical concepts of Albert lights vary between the classic and playful country style and a straightforward and no-frills design.
Albert ball lights in modern and classic colors
In terms of color, we offer a wide selection of our ball lights. In addition to the classic black and white ball lights, we also have glamorous models made of stainless steel. Furthermore, we carry rustic lights in black-silver or white-gold.
Take a look at our catalog and be inspired by our assortment. We guarantee you uncompromising brand quality "made in Germany". You will see: Our globe lights are a round thing throughout.
You are rather looking for a garden light with corners and edges? Then we recommend our brands from the product ranges Bicolor and stainless steel lights.