Letterboxes and newspaper holders by Albert Leuchten
It's the little details that really round off a picture. Like our letterboxes and newspaper holders for outside, which give your entrance that certain something. High-quality materials, attention to detail and a knack for design. So that your newspaper and your mail are protected from wind and weather as well as from thieves.
Mailboxes
Letterboxes and newspaper holders from Albert Leuchten - great designs, large selection
With letterboxes from Albert Leuchten, you can round off the appearance of your entrance wonderfully. Thanks to the variety of models, you can adapt your letterbox to your personal style. In this way, you create an overall image that appears to your visitors as if it were all of a piece.
Modern or timeless, classic or discreet – or would you prefer a playful country house style? That is entirely up to you. With us, you will find letterboxes for almost every style, suitable for both commercial and private properties.
Make your entrance a showpiece: you can coordinate your outdoor letterbox with the entrance lighting, your house number and even your doorbell sign. For a modern design with a consistent look. A real eye-catcher!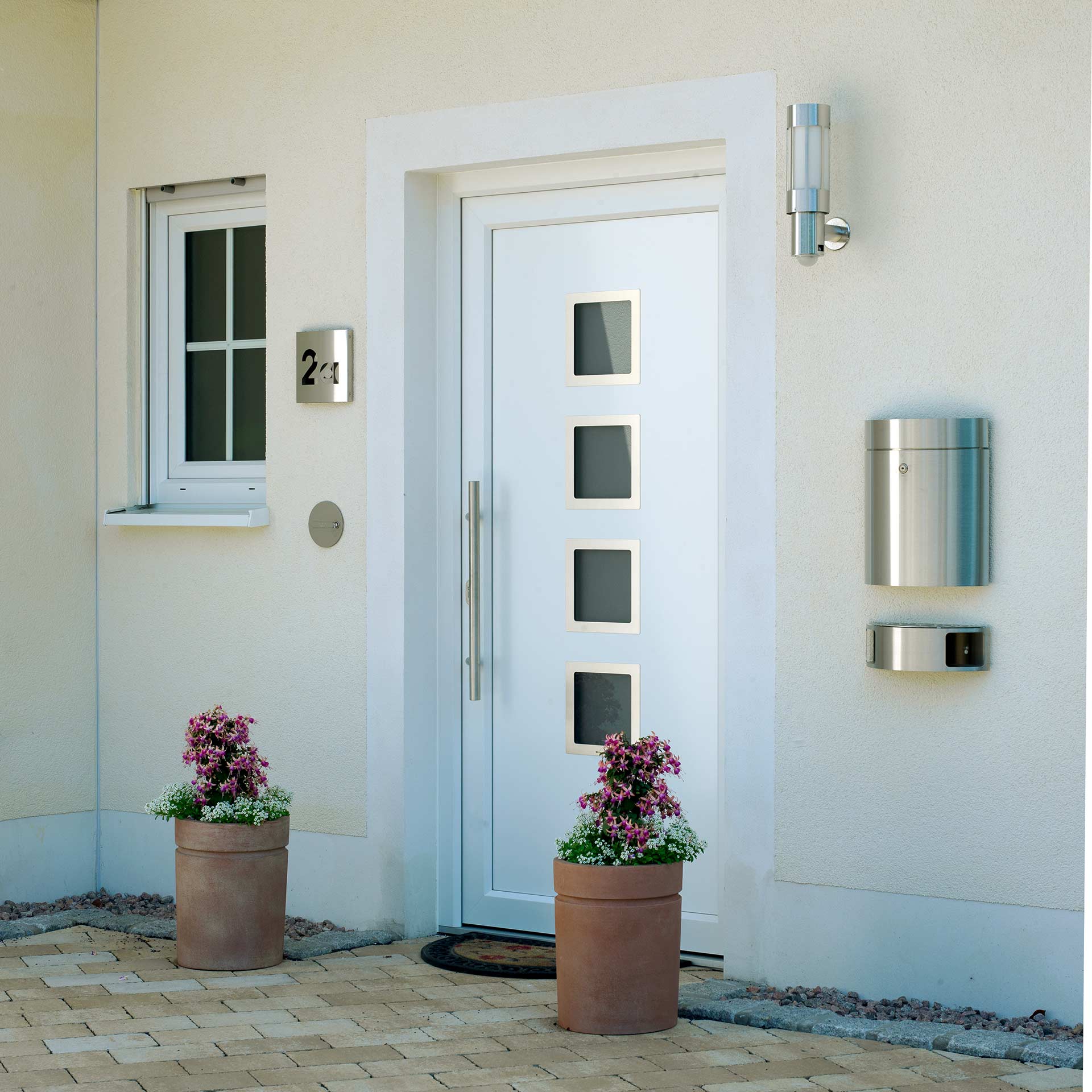 Robust and weatherproof, made of durable stainless steel or cast aluminium – so you also have little work with maintenance. Be inspired by our range of different letterboxes for outside and find your favourite piece.
Wall-mounted letterboxes in various formats: Find your favourite!
Our wall-mounted letterboxes not only come with an attractive design, but also with all the necessary security features. So thieves and prying eyes don't stand a chance with your mail! All our outdoor mailboxes – whether wall-mounted or free-standing – are equipped with a high-quality stainless steel lock. "Made in Germany" down to the smallest detail.  So you can be sure that your mail remains confidential.
Wall-mounted mailboxes from Albert Leuchten are designed to provide sufficient storage space for your mail. This means that even several or larger items of mail are always optimally protected. With a practical removal flap, your wall-mounted letterbox protects the contents for you.
Whether with or without a newspaper compartment, plain or modern – our letterboxes are an eye-catcher at the entrance to your home and on your walls. Very easy to install yourself: The matching mounting material is of course included with the wall-mounted letterbox.
Free-standing letterboxes for private and commercial use
The advantage of a free-standing letterbox is that you can position it as you wish. Directly in front of the house entrance, next to the driveway or on the property line – it's up to you. With the enclosed mounting material, our free-standing letterboxes can be easily installed wherever it makes the most sense for you.
Our letterboxes for free-standing installation are also made of robust and weatherproof materials. Especially if they are not protected by an additional roof, they should be able to withstand changing weather and fluctuating temperatures. Freestanding mailboxes from Albert Leuchten are available in various versions, designs and features. Choose the model that best suits the rest of your design style and create an impressive overall picture.
Take a look around our range and choose from the wide variety. Would you like more information on the subject of pillar mailboxes? Then we have a lot of useful information for you in our category of floor-standing letterboxes.
Newspaper holder for outside – practical, versatile and durable
Are you one of those people who enjoy starting the day with coffee and a newspaper? It's not nice when the sheets of paper get soggy and stick together. With a newspaper holder this would not happen to you.
Our newspaper holders made of stainless steel or cast aluminium are not only weatherproof and robust – they also protect your newspaper from wind and weather. Whether combined with a letterbox or mounted "solo" on the wall: Newspaper holders from Albert are an additional eye-catcher for your front entrance. Classic newspaper roll, modern newspaper box or integrated on the letterbox – newspaper holders are available in many different variants and designs. Discover the different models in our range.
Like our letterboxes, you can also choose our newspaper holders to match your interior design style. Classic-timeless, straightforward-modern or also in the playful English country house style.