Recessed Floor Spotlights
Ground recessed spotlights – discreet and robust light bringers
Ground recessed spotlights for outdoor use convince with their inconspicuous appearance and their handy format. With several ground luminaires, you can realize impressive light shows, with which you can enhance your property visually.
Our recessed spotlights are extremely versatile. An arrangement of several ground lights provides several bundled light beams. With this lighting you present house facades, flower beds or other outdoor areas spectacularly.
Ground recessed spotlights from Albert Leuchten score with sophisticated technology despite their small size. The indestructible outer shells of our ground recessed luminaires are made of either stainless steel or cast aluminum. The housings are manufactured in such a way that moisture and dirt cannot penetrate in any way.
Spotlights are also used on meadows or earthy beds. That is why our recessed luminaires have the very high IP67 protection class. This means that the lights are absolutely dustproof and can even survive 30 minutes under water without damage.
So if the ground recessed luminaire sinks into the cool water for a short time due to a thunderstorm, this does not pose a safety problem. However, we still recommend not to install the ground recessed spotlight where permanent flooding is conceivable.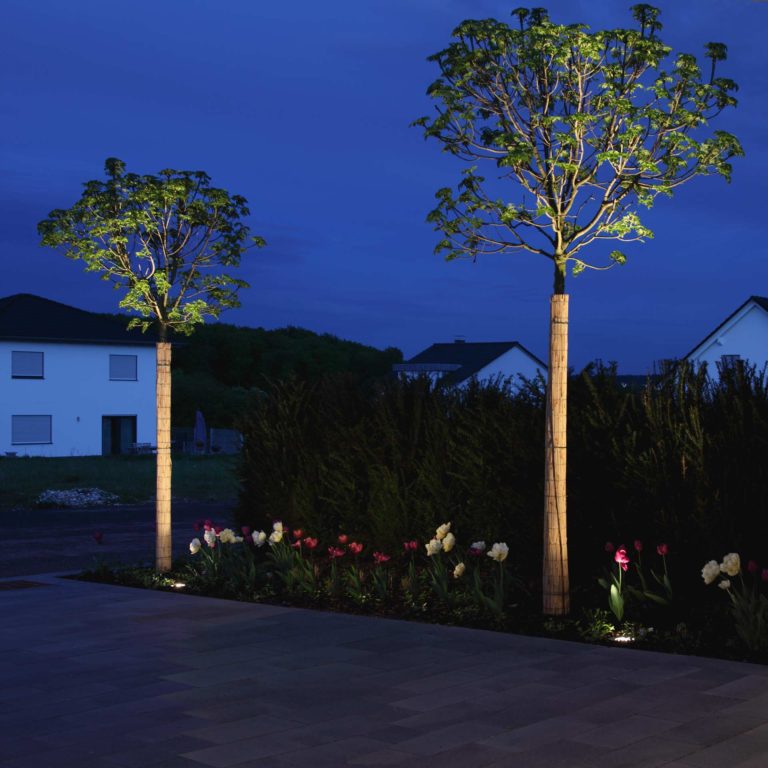 Ground spotlights for outdoor use – tread-proof & individually adjustable
Our ground recessed spotlights are high-tech in miniature. The spotlights made of stainless steel or cast aluminum are available from Albert Leuchten with reflector lamps, halogen lamps or replaceable LED components. Each of these light sources works energy-saving and still provides very bright and focused light.
Some models even offer a choice of symmetrical or asymmetrical light distribution. The luminaires installed in the floor spots can be swivelled. Their light cones can be aligned according to personal taste.
Another highlight of our recessed floor spotlights is their extreme resilience. We have designed the safety glass of our spotlights to be so robust that the luminaires are resistant to foot traffic. So playing children, lawn mowers or frolicking dogs cannot harm the floor spots.
Our recessed floor spotlights with borosilicate glass can withstand a maximum load of 120 kilos. Depending on the model, Albert floor spots made of stainless steel can even withstand weights of 1,000, 2,000 or even 3,000 kilograms. In practice, these spotlight models are therefore also suitable for driveways, carports or garages.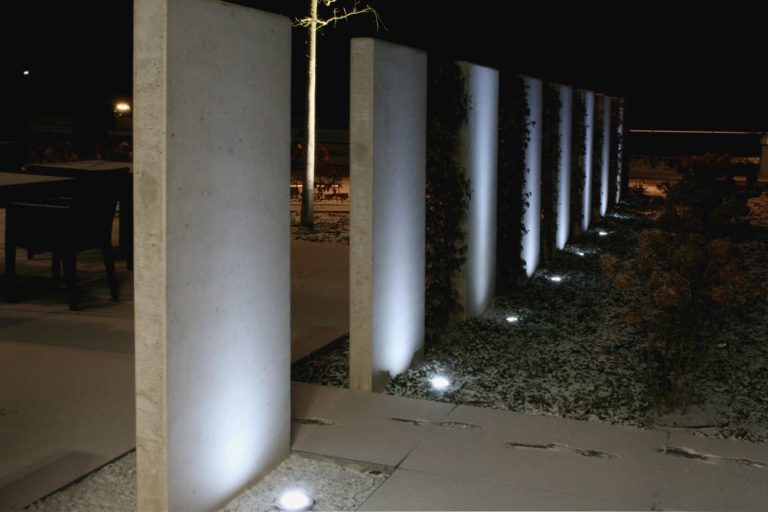 Albert recessed floor spotlights – LED dimmable, swiveling & replaceable
Many recessed floor spotlights of our competitors are equipped with a fixed LED light source. Thus, the cost of production is lower. In our opinion, savings are made in the wrong place here. If a fixed LED technology fails, then you need to replace the entire spotlight. Whether you will find the same model in stores after a few years is more than questionable.
At Albert Leuchten, most LED recessed spotlights are equipped with bulbs that are easily replaceable. In addition, we guarantee that you will be able to get suitable spare parts for your ground spots even after years.
However, Albert ground recessed spotlights trump with other features. Our LED ground recessed lights are equipped with an integrated overvoltage protection. This makes the operation of these products particularly safe. The building power grid is thus protected far beyond the legal requirements.
Optionally, you can opt for LED recessed spotlights with brightness control. With these models, you regulate the luminous flux for the dimmable LED yourself. Our ground recessed spotlights with integrated AC/DC converter can even be operated on a DC voltage grid if required.
This includes a solar battery, for example. With this equipment, the lighting design for your property becomes even more flexible. It also makes LED modules even easier to install.
Buy Albert LED in-ground spotlights and benefit from 70 years of experience
At Albert Leuchten, you can get recessed floor spotlights "made in Germany". The products score with a low installation depth. They are simply recessed into the floor.
In our manufacture in Fröndenberg, we combine many years of experience with state-of-the-art technology in the production of our LED recessed lights. A careful control ensures that our ground spots leave the factory technically and optically flawless.
Buy recessed ground lights from Albert Leuchten. Choose well-engineered top products with long durability and pleasant light. Would you like to learn more? Then browse now virtually through our large product catalog, which we make available to you online.