Albert outdoor luminaires: Lighting accents for gardens & objects
With outdoor luminaires from Albert, we offer you endless possibilities for lighting design. Our high-quality products act as lighting solutions in private gardens, on walkways and in the commercial sector. Learn which products are suitable for which purpose.
Outdoor Lights
Albert outdoor luminaires: Lighting accents for gardens & objects
Under the term "outdoor luminaires" we summarize all products with which you can realize a well thought-out lighting design in the outdoor area. The offer is as diverse as the colors of the light spectrum. In our factory in North Rhine-Westphalia, we produce, among other things, spherical luminaires, spotlights, bollard luminaires and wall luminaires. With all these lights you can create high-quality and visually impressive lighting moments.
You want to renew or extend the lighting concept of your garden? Are you looking for suitable object luminaires for the outdoor areas of your company? In any case, you've come to the right place.
We will show you with which different outdoor luminaires you can equip a private or commercial area. Make your terrain brighter, friendlier and safer with Albert lights!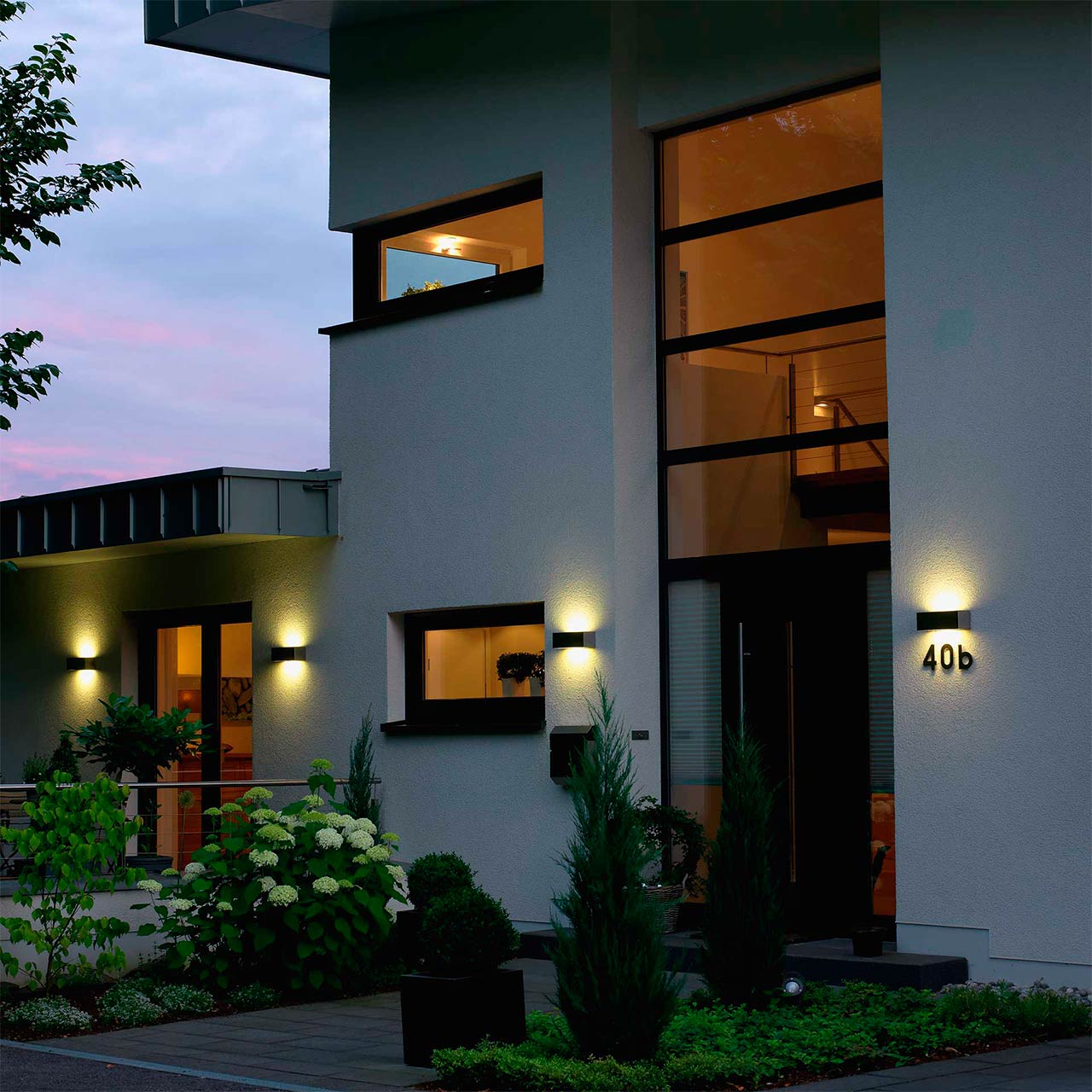 Outdoor luminaires for mounting directly at the house
For the entrance area of single-family homes or apartment buildings, Albert Leuchten offers many suitable lighting concepts. With our wall or ceiling lights, coming home becomes safer and more comfortable. In addition, these outdoor lights also look great and add an attractive flair to a home or rental property.
We manufacture our ceiling and wall lights from sturdy stainless steel and cast aluminum. These materials have first-class product properties. They are durable and low-maintenance. Even blistering hot summers or polar winters our outdoor lights survive without damage. And so that you can enjoy our lights for a long time, they are effectively protected against moisture and other weather influences.
We offer wall and ceiling lights in various shapes and colors. Choose the classic spherical shape with a modern wall mount or an ornate model in country style. We produce cast aluminum lamps in square or round design. And for a very special ambience, we also offer wall sconces in bicolor look.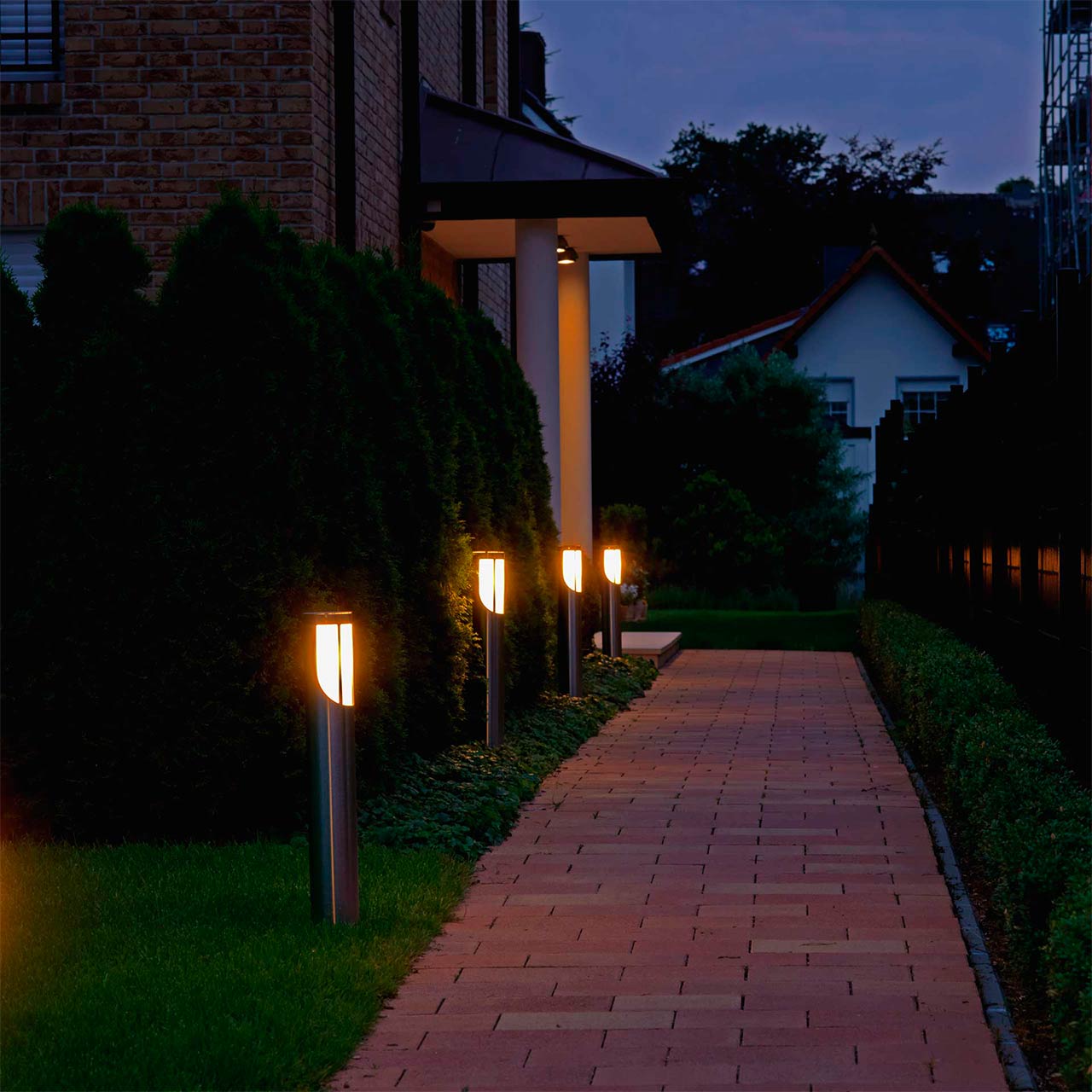 Pedestal and bollard luminaires for paths and flower beds
Outdoor luminaires that are mounted on the ground as light-producing pillars are called bollard or pedestal luminaires in technical jargon. The difference between the two variants is that pedestal luminaires are mounted on a low base.
In the case of bollard luminaires, on the other hand, the light source sits higher. Of course, the position of the light cone also affects the lighting mood and light pattern. Lighting close to the ground is always as good as glare-free.
In the field of LED outdoor luminaires, base luminaires are among the most sought-after products. They can be used to visually frame flowerbeds, paths, terraces or even parking lots. Several base luminaires show visitors the right way and provide visual orientation.
In the entrance area of residential buildings or companies, they also provide a great deal of safety. Tripping hazards can be quickly localized. Outdoor luminaires with motion detectors also deter thieves and troublemakers quickly and effectively.
Spotlights: Outdoor luminaires for detailed lighting concepts
Of course, spotlights must not be missing from our range of LED outdoor luminaires. For the most part, these do not spread light over a wide area. Rather, they are suitable for the selective and detailed illumination of specific areas or objects.
With spit spotlights from Albert Leuchten, you can visually highlight attractive areas of your garden. This includes, for example, trees, bushes or decorations. Thanks to long supply cable and earthing contact plug, our spike and garden spotlights are very flexible to handle.
If you use our area spotlights as LED lights, then you can use them to direct the view to objects worth seeing. These include, among others, rugged masonry or old house facades. Some of our floodlights can be tilted and swiveled. This allows you to realize lighting scenarios exactly according to your personal ideas.
Surface floodlights are suitable for mounting on the wall. With a ground spike, you can set up the outdoor spotlights wherever a standard socket is available.
Free-standing luminaires and pole luminaires for larger lighting projects
In the field of outdoor luminaires, our pole luminaires are among the professional lighting solutions. They are mainly used in commercial areas and parking lots. With a luminaire enthroned high up on a pole, you generate wide-area lighting.
This makes large areas particularly safe because there are no longer any dark corners. Uninvited guests have a hard time.
Our free-standing and pole-mounted luminaires are considered ideal outdoor luminaires for sports facilities, event areas and delivery zones. For these applications, we are also happy to supply you with suitable steel poles. We produce these poles in lengths between 3,000 and 8,000 millimeters. For more information about the corresponding post-top luminaires and Vario spotlights, please refer to the corresponding section on our website.