Our wall-mounted letterboxes - quality "made in Germany".
All mailboxes from Albert Leuchten are robust and safe. Furthermore, they ensure a homogeneous appearance of your house entrance – especially in combination with our matching outdoor lights.
The choice of a suitable letterbox does not only depend on your personal preferences in terms of design. After all, a letterbox should also be functional and protect your mail from pilferers and nosy neighbours. In addition, a mailbox must shield your letters and newspapers from wind and weather. After all, nothing spoils the start of the day like a completely soaked daily newspaper.
Our mailboxes are all made of high-quality stainless steel or cast aluminium. These materials score points for their high resistance to rain or strong sunlight. This means that rust doesn't stand a chance, even after years of use.
Our wall-mounted letterboxes are also very easy to clean. Clean smooth surfaces regularly with our stainless steel care cloth. Then you will enjoy your letterbox for many years.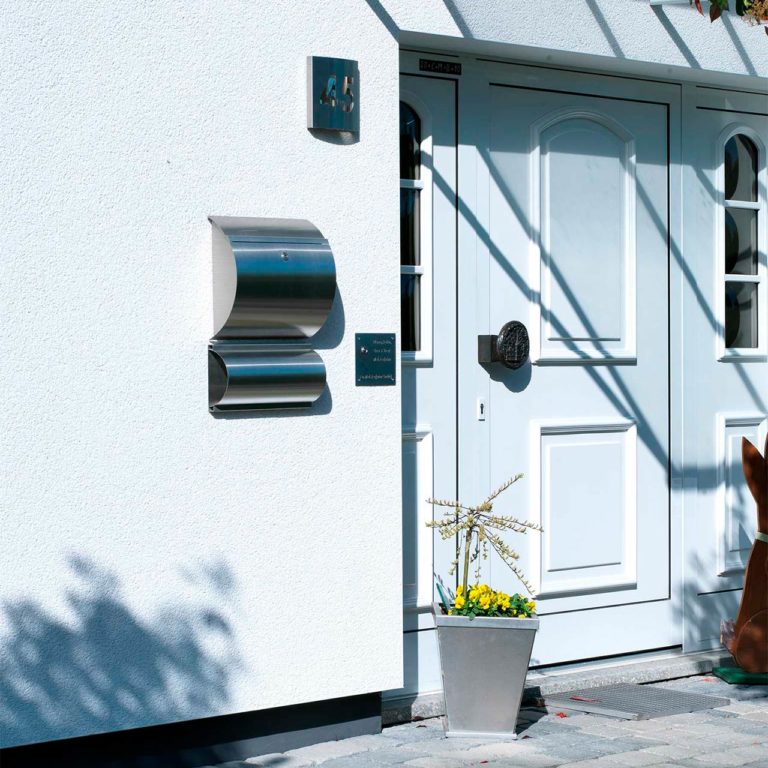 Buying a wall-mounted letterbox – these are the features you should look out for.
In the age of e-mail, the volume of letter mail does not decrease proportionally. Therefore, choose a letterbox that offers enough storage space for your mail. The vast majority of Albert Leuchten mailboxes are sized to fit envelopes in C4 format (324×229 mm).
Are you often on holiday for several days? With a large letterbox, you don't have to worry about your letter volume. Wall-mounted letterboxes with integrated newspaper holders are a real "space miracle". An easily accessible removal flap provides additional convenience with your new wall-mounted letterbox.
An ornament for your house entrance – wall-mounted letterboxes by Albert Leuchten
With a wall-mounted letterbox from Gebrüder Albert GmbH & Co. KG Leuchtenfabrik, your house entrance will be a real "showpiece". If you want to give your entrance area a modern touch, a model made of stainless steel is particularly suitable. This material is not only very robust, but is also characterised by simple elegance.
Of course, we produce wall-mounted letterboxes in a wide variety of formats. Do you like it striking with corners and edges? Or do you prefer your mailbox to have a rounded body? Our range of wall-mounted mailboxes offers the right solution for every taste.
Modern or classic wall-mounted letterboxes – the choice is yours.
A timeless colour classic is the anthracite or stainless steel wall-mounted letterbox. In combination with products of the same colour from our range, you give your entrance area a uniform and tidy overall appearance.
Would you prefer to add more colour to your entrance? Then perhaps our English wall letterbox is the product of your choice. This country house style letterbox is available from us in black-silver, brown-brass and white-gold. With its elaborate decor, this classic "letter box" with newspaper compartment is an absolute eye-catcher.
Albert wall-mounted letterboxes – well locked against unauthorised access
We at Albert Leuchten want your private mail to remain absolutely confidential. We want to maintain the legal secrecy of correspondence in your mailbox. That is why our wall-mounted letterboxes have effective protection mechanisms against theft and prying eyes.
Since an unlocked mailbox does not guarantee security, all our mailboxes are equipped with a high-quality stainless steel lock. Albert Leuchten only uses stainless steel locks "made in Germany" and guarantees the highest quality. Two keys for each stainless steel lock are included in the delivery of our mailboxes. The matching material for mounting our wall-mounted mailboxes is also included.
Wall-mounted letterboxes – secure according to DIN basic standard
Our wall-mounted letterboxes are manufactured strictly in accordance with the basic standard DIN EN 13724. Among other requirements, this also includes security against unauthorised removal of mail that has already been delivered.
Finally, you can rely on the fact that letterboxes from Albert Leuchten have no sharp corners and edges. Neither you nor your children can injure themselves on them. As with our entire range, we also make sure that our wall-mounted letterboxes are carefully crafted and well-engineered products. Top quality is the best reason to buy a letterbox from Albert Leuchten.