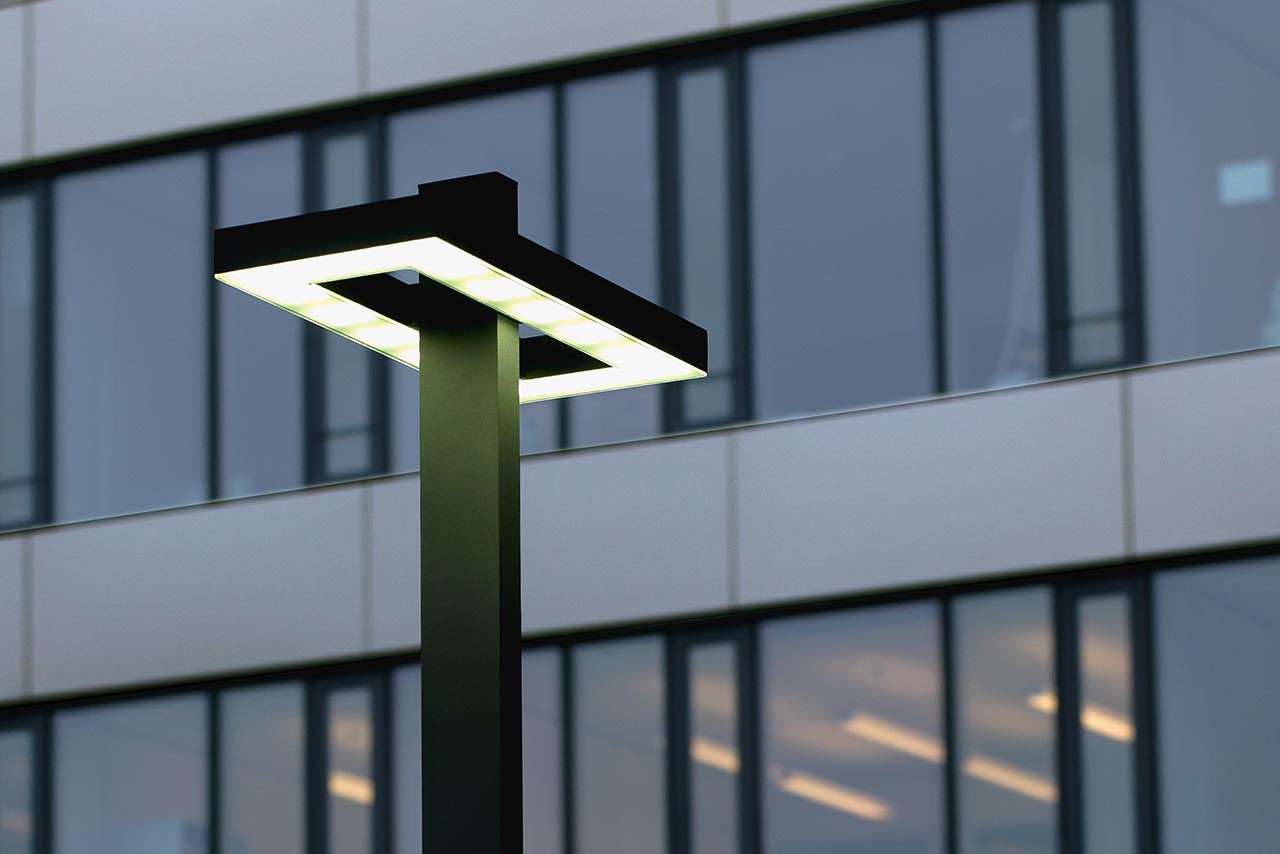 Stage outdoor areas with Albert object luminaires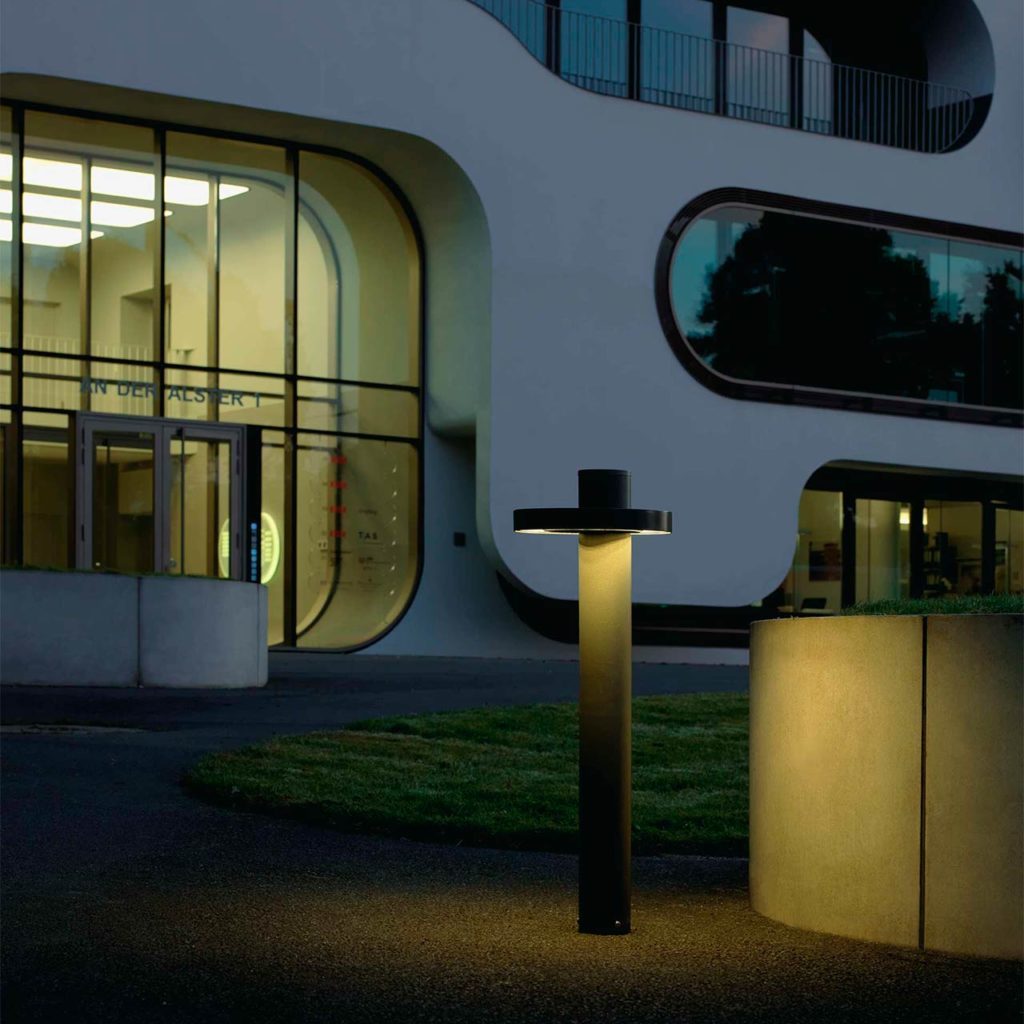 Exceptional object lighting from Albert Leuchten
Object luminaires offer you the perfect opportunity to set the scene for your outdoor areas. From private properties and company premises to car parks, shopping centres or sports grounds. With Albert object luminaires, you always have the right lighting solutions for your lighting concept.
Variety for a stylish atmosphere: object luminaires suitable for every area
First and foremost, object luminaires have a functional purpose: to illuminate areas, paths and objects. Thus they contribute to increased safety on company and factory premises.
But functionality can also look good. In fact, it should. That's why Albert object luminaires are available in many different designs, sizes and models. With us you will find the right luminaire for your application.
Effective object lighting can be realised in many different ways. For example, we offer bollard spotlights, light pedestals, wall luminaires, post luminaires and post-top luminaires. Because these terms are all part of the technical jargon, we explain the advantages of the individual products here.
Bollard spotlights and light pillars as modern object lighting
Light pillars and bollard luminaires can be used almost anywhere as object luminaires. They illuminate company entrance areas, car parks or driveways. Bollard luminaires emit light from one side only. They can be used, for example, to illuminate car park entrances without dazzling drivers.
If you use bollard luminaires or light pillars for object lighting, then select a suitable version. Albert Leuchten produces these products with 180 degree or 360 degree light emission. With this selection you create an optimal light distribution on your property.
Light pillars are significantly larger in design than bollard luminaires. With our pillars, you can illuminate car parks and paths from above. This ensures a wide-area and uniform illumination of your property.
For efficient building automation, our light columns are equipped ex works with a modern DALI control system. Another highlight are the low-consumption and replaceable LED components.
Wall luminaires for object lighting directly on the building
Albert object luminaires for the building wall provide a modern look in the entrance area of your company. In the object area, we have specialised in contemporary wall luminaires. With this lighting, the façade of your company looks noble and "up to date".
Our object luminaires for the wall score with replaceable LED components and a shapely body made of cast aluminium and aluminium profile. The wall luminaires can be continuously swivelled through 120 degrees.
Albert wall luminaires are available either in a square shape or in a ring-shaped look. As standard, Albert Leuchten supplies these models with warm white light colour (3,000 Kelvin). On request, the wall-mounted luminaires are also available in pure white with 4,000 Kelvin.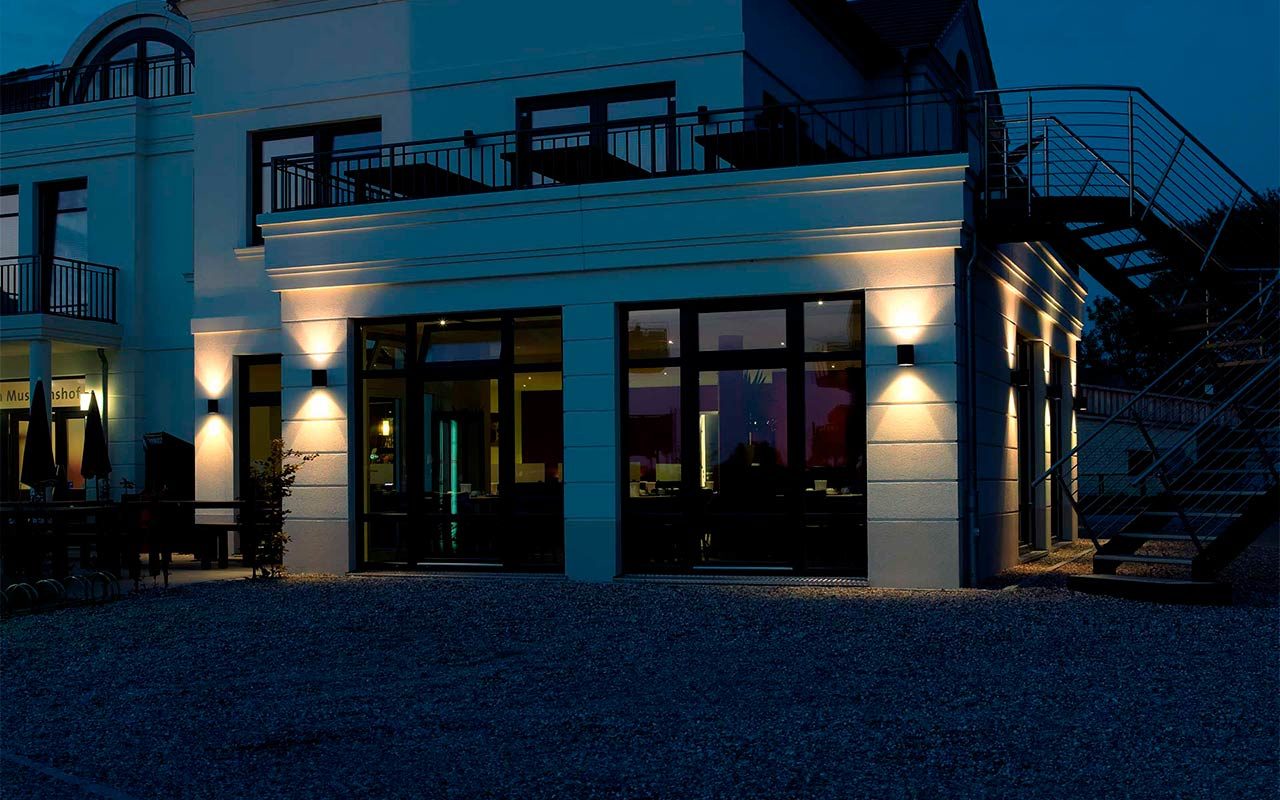 Aim high: post-top luminaires for indirect object lighting
Mast luminaires can also be used to illuminate large parking areas, delivery zones and other outdoor areas. These powerful light sources are available from Albert Leuchten in various sizes. Colours to choose from are anthracite and black.
Our large object luminaires are supplied with a luminaire connection in the pole spigot. This makes installation by a specialist company particularly easy. The matching mounting plate is also included in delivery.
When planning object lighting with post-top luminaires, make sure that they comply with the recommended spacing between light points. This refers to the distance that must be maintained between two object luminaires.
Post-top luminaires as modular object luminaires
Post-top luminaires are luminaires that can be mounted on a high mast if required. Because installation on a wall arm is also possible, post-top luminaires are perfect for object lighting. In the interplay of the different luminaires, you thus achieve a consistent appearance.
We supply our post-top luminaires for masts with a diameter of 76 millimetres. In the Vario III version, our post-top luminaires for public areas can even be tilted from 0 to 15 degrees. This allows you to easily adapt the light cone to your personal lighting concept.
Of course, we also supply you with the matching masts for your contract lighting. The steel poles for our vario spotlights and post-top luminaires are available in pole lengths from 3,000 to 8,000 millimetres. Simply choose between the conical or the cylindrically stepped version.
Our steel poles are hot-dip galvanised as standard. On request, we can also deliver the accessories for your object luminaire painted.