Albert socket skewers: power for every place in your garden
Socket columns make outdoor work easier, because power outlets within easy reach are often scarce. With a socket spike from Albert Leuchten, you can quickly get to grips with this challenge. Our outdoor sockets with ground spike, cable and plug provide flexible power supply in the open air. With their unobtrusive design, the power distributors fit perfectly into the design of your garden.
The biggest plus point of socket columns is that you can place them outside entirely according to your own preferences. Are you working with an electric mower or an electric hedge trimmer? Then position our outdoor socket spikes directly on the green area. The meter-long cables offer optimal flexibility in the selection of the installation location in all weather conditions.
If, on the other hand, you are planning a TV or barbecue evening with friends on the terrace at home, then simply sink the ground spike into the veranda bed in a few simple steps and use it there. After the garden season, you can dismantle the connecting pillar again if necessary. Or you can use it in winter for the Christmas lighting of your garden. This is also not a problem, because our socket skewers can tolerate large temperature differences without damage.
Albert socket skewers – safe technology "made in Germany"
Electric current must never come into contact with water, because there is a risk of electric shock. As a responsible manufacturer, we at Albert Leuchten also pay attention to above-average protection against overvoltage in our multiple sockets with skewers.
All our outdoor sockets have the IP44 protection rating. This means that we protect the socket spits against accidental contact with live components, as well as against splashing water from all sides and the penetration of larger foreign bodies. Of course, the current-carrying cables of the garden socket outlets are also 100 percent optimized for outdoor use.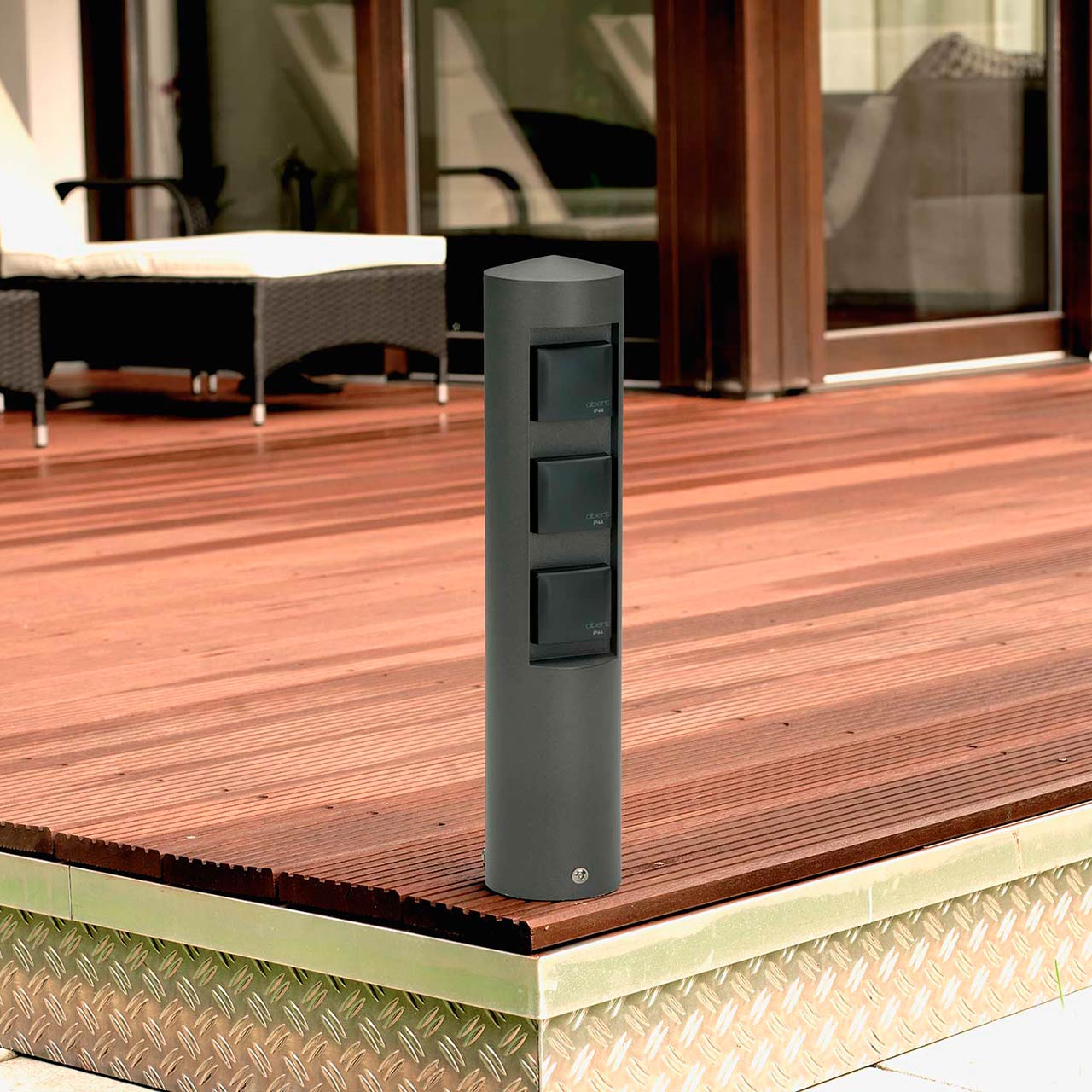 Connecting pillars with cover and insulation according to German standards
All insulation on the supply cables complies with strict German standards. Even if the cables of your socket skewers once lie on damp earth or are temporarily in a puddle due to a downpour, the safety of our socket skewers remains. Our socket skewers are perfectly secured even in the event of a downpour.
Another safety aspect of the socket spits from Albert Leuchten is that all installed earthed sockets are provided with a cover. In addition, the housings of these variable outdoor sockets are made of high-quality stainless steel or cast aluminum. The corrosion-resistant materials are immune to heat and moisture. Therefore, our products are not only safe, but also extremely durable.
Albert Leuchten produces sophisticated technology for your garden
While reliable components do their work inside our outdoor power outlets, we have focused on timeless elegance in the design of the spit garden power outlets.
We have also deliberately designed the color scheme of the power distribution boxes to be discreet: Socket spits for outdoor are available from Albert Leuchten either in noble black or in the simple color combinations anthracite-silver or stainless steel-silver. With these designs, your new connecting pillar fits perfectly into the design of your garden without contradicting existing decorative elements.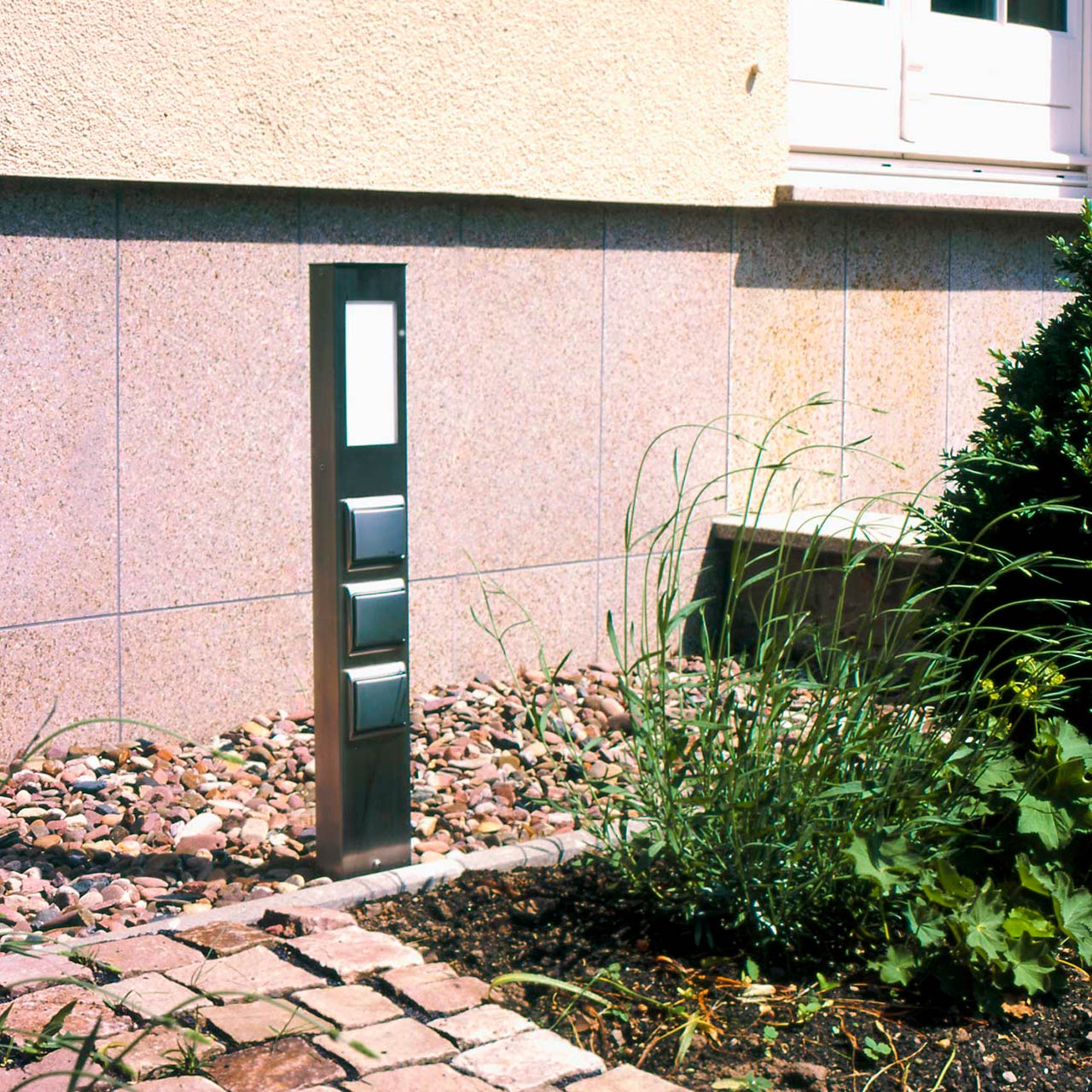 Socket skewers with one or more sockets
You have several choices when it comes to the features of our garden socket skewers. Order the sockets with ground spike either in double or triple equipment or immediately with four integrated protective contact sockets.
On request, Albert Leuchten can also supply you with individually manufactured socket combinations for socket spikes, e.g. with earthing contact socket/s CH – type J (Swiss standard) or the French earthing contact socket/s F/B – type E. Choose now in our general catalog a model that best suits your personal requirements.