Albert bicolor lights: doubly beautiful light bringers
At Albert Leuchten, you can get bicolor lights for installation on the wall of the house. In addition to these fashionable wall lights, we also have bicolor base lights and bollard lights on offer. Thus, you beautify your house and garden with lights that are perfectly coordinated in terms of design.
The deliberate contrast of shiny stainless steel and matte anthracite makes the special charm of our bicolor lights. The well thought-out designs are visually very high quality. With their appearance, bicolor lights are absolutely on trend.
The interior of the bicolor luminaires for outdoor use is also convincing all along the line. We will tell you which advantages you will enjoy when buying a wall light, bollard light or base light from our range.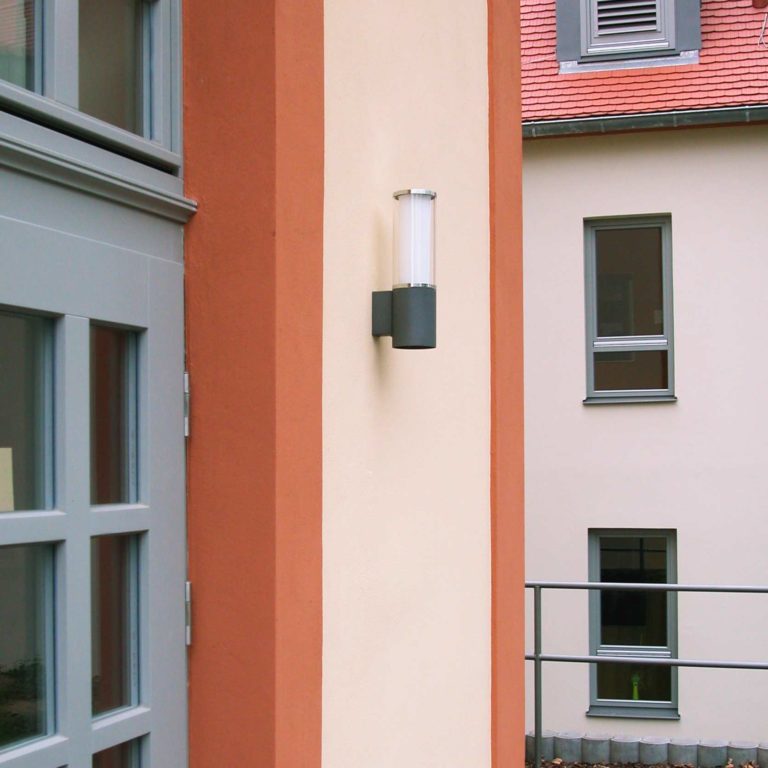 Bicolor lights for wall mounting
Bicolor wall lights from our range are available in a wide variety of shapes. In addition to outdoor lights in the classic cylinder shape, we also produce wall lights with angular mounting plate. Here, too, our designers have ensured that the material mix of stainless steel and cast aluminum is shown to its best advantage.
Thus, in many models, the opal glass is framed with stainless steel brackets. The contrast between the milky glass and the bright stainless steel makes our bicolor lights look stylish and modern. The fact that countless Albert Bicolor lights are equipped with a motion detector underscores the contemporary aesthetic of the products.
You can use our bicolor wall lights either with conventional general-purpose lamps or with an LED retrofit. In both cases, you can easily replace the low-consumption bulb yourself. For the retrofit models we recommend the use of our lamps type E (article 90750309).
Bicolor skirting luminaires: fashionable companions
Bicolor luminaires in the design of a base luminaire are perfect for illuminating paths, driveways or entrance areas. With several bicolor base luminaires, you create a beautiful lighting atmosphere and also provide more safety. Pedestal lights are also suitable for lighting beer gardens and outdoor areas of restaurants and pubs.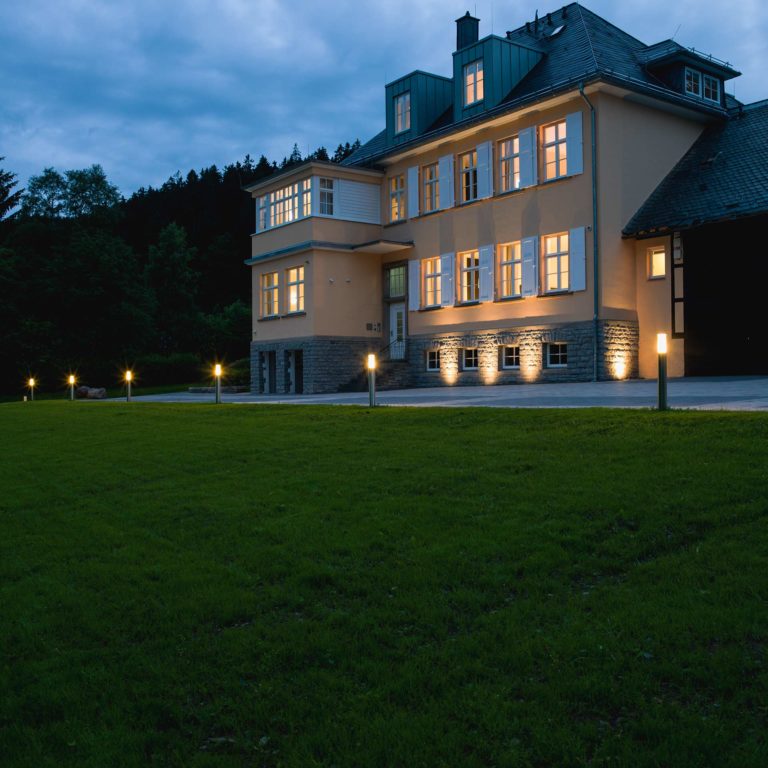 Bicolor outdoor pedestal luminaires are visually extremely adaptable. The modern and subtle look is perfect for commercial property lighting. But bicolor luminaires also cut a fine figure in contrast with a more rustic ambience.
When it comes to the inner workings of our base luminaires, we make no compromises in terms of technology. The luminaires score IP protection class 44, which means they are immune to splashing water from all sides and solid foreign bodies > 1 millimeter. Efficient LED technology is also used in our pedestal luminaires.
Bicolor bollard luminaires: Light for parking lots, flower beds & Co.
Bollard luminaires are the larger siblings of the base luminaire. Our bollard luminaire in bicolor look is 900 millimeters high. With this size, the Bicolor luminaire is suitable as a light source for parking lots, flower beds, garden paths or house entrances.
All Albert Bicolor bollard lights are equipped with a retrofit socket. This accepts energy-saving LED lamps up to a maximum of 20 watts. With an appropriate illuminant, our bollard lights thus operate in the low energy efficiency class A++.
To additionally save energy and increase comfort, Albert Leuchten also offers bollard lights with motion detectors. With these models, the light turns on completely automatically. All that is required is the detection of movement by people or vehicles. A suitable ground piece for mounting the bicolor luminaires in bollard design is available separately if required.
Albert bicolor luminaires: Lighting technology "made in Germany"
All our bicolor lights are made directly in our own factory in Fröndenberg, Sauerland. So when you choose a product from Albert Leuchten, you are choosing quality goods from Germany. Our lights are not only visually appealing, but also very robust and durable.
Bicolor outdoor lights we produce exclusively from high-quality materials. We use stainless steel and cast aluminum. These two materials convince with their weatherproof properties. Sun, cold and wetness cannot harm our products.
Our bicolor lights are also technically up to date. The connection to the electrical house network is no challenge for a skilled craftsman. The precisely manufactured mounting plate fits perfectly on all types of walls.
On request, we deliver our bicolor lights directly with a 10 Watt LED (900 lumens, 3,000 Kelvin, warm white). Alternatively, equip our bicolor lights for outdoor with an LED bulb of your choice. For more information, please visit our website and catalog.