Classic lights – eye-catcher for terrace, garden & Co.
Classic outdoor lights have been manufactured in proven shapes for many years. From elegant ball lights to outdoor lanterns, Albert Leuchten offers you countless classic lights.
Should it be rather the playful country house style? Or a sleek and straightforward luminaire made of cast aluminum? The choice is entirely up to you.
In any case, classic lights are suitable for giving your property a very special ambience. At the entrance to the house, the typical wall lantern provides stylish lighting with retro charm. On terraces and balconies, classic outdoor luminaires provide cozy and atmospheric light.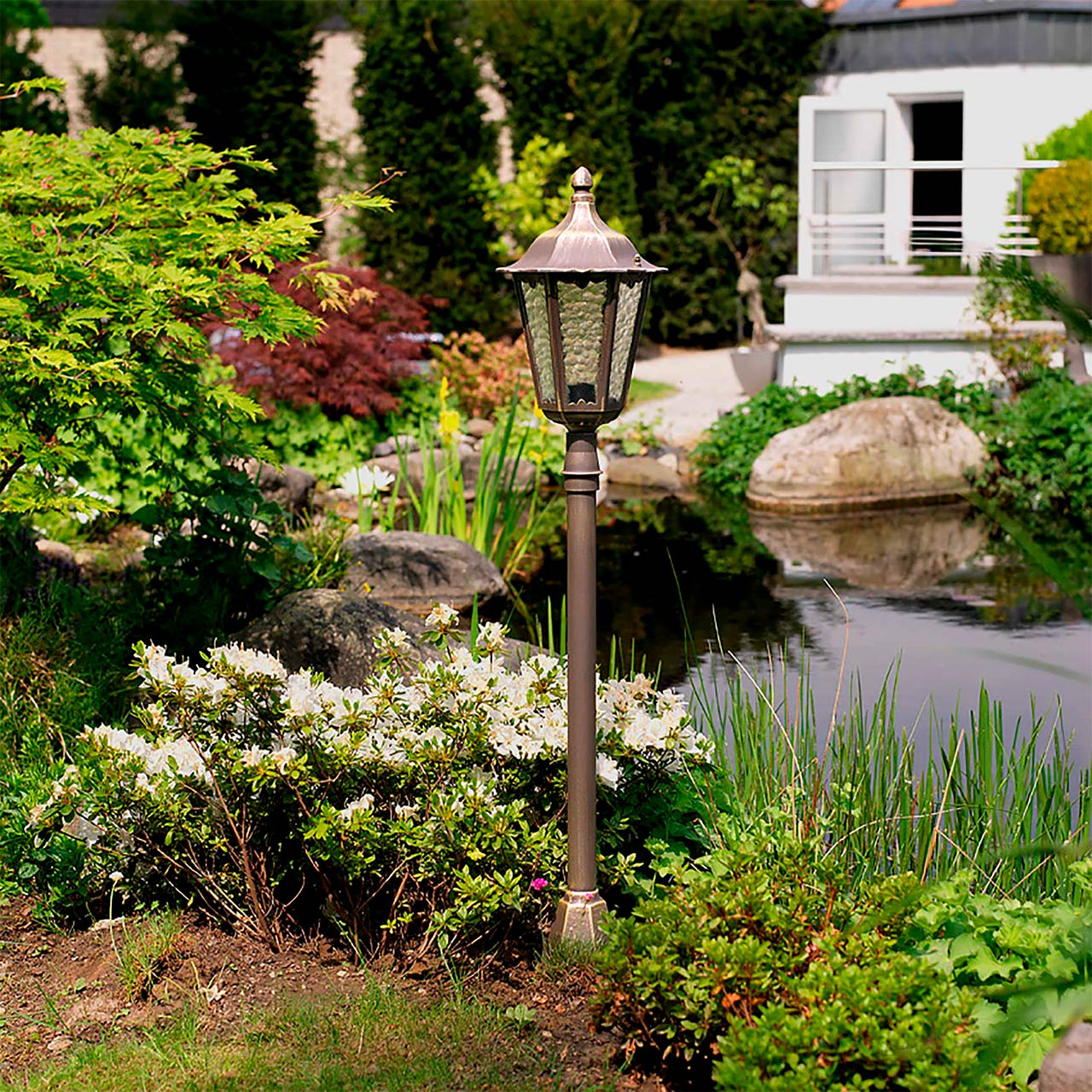 Albert outdoor luminaires – classic light bringers made of cast aluminum and stainless steel
If classic pedestal, pillar or spherical luminaires are trellised along a walkway, then access routes do not become much safer. In addition, the outdoor area then immediately looks much more level. Even directly in a green area, classic outdoor lights cut a more than good figure.
Beautify your garden house with a classic ceiling light. Enhance your garden with several bollard lights that make special corners of the grounds shine. Hundreds of lighting ideas can be realized with classic outdoor lights.
Classic lights – exquisite quality for use outdoors
When an outdoor luminaire has a classic design, it is often made of particularly proven and robust materials. Here at Albert Leuchten, we have chosen aluminum and stainless steel. With almost 70 years of experience, we produce our classic outdoor lights in our manufactory in Fröndenberg.
At Albert Leuchten, we combine state-of-the-art manufacturing technology with constant quality control. You can be sure that every lighting fixture from our factory is a durable and high-class product.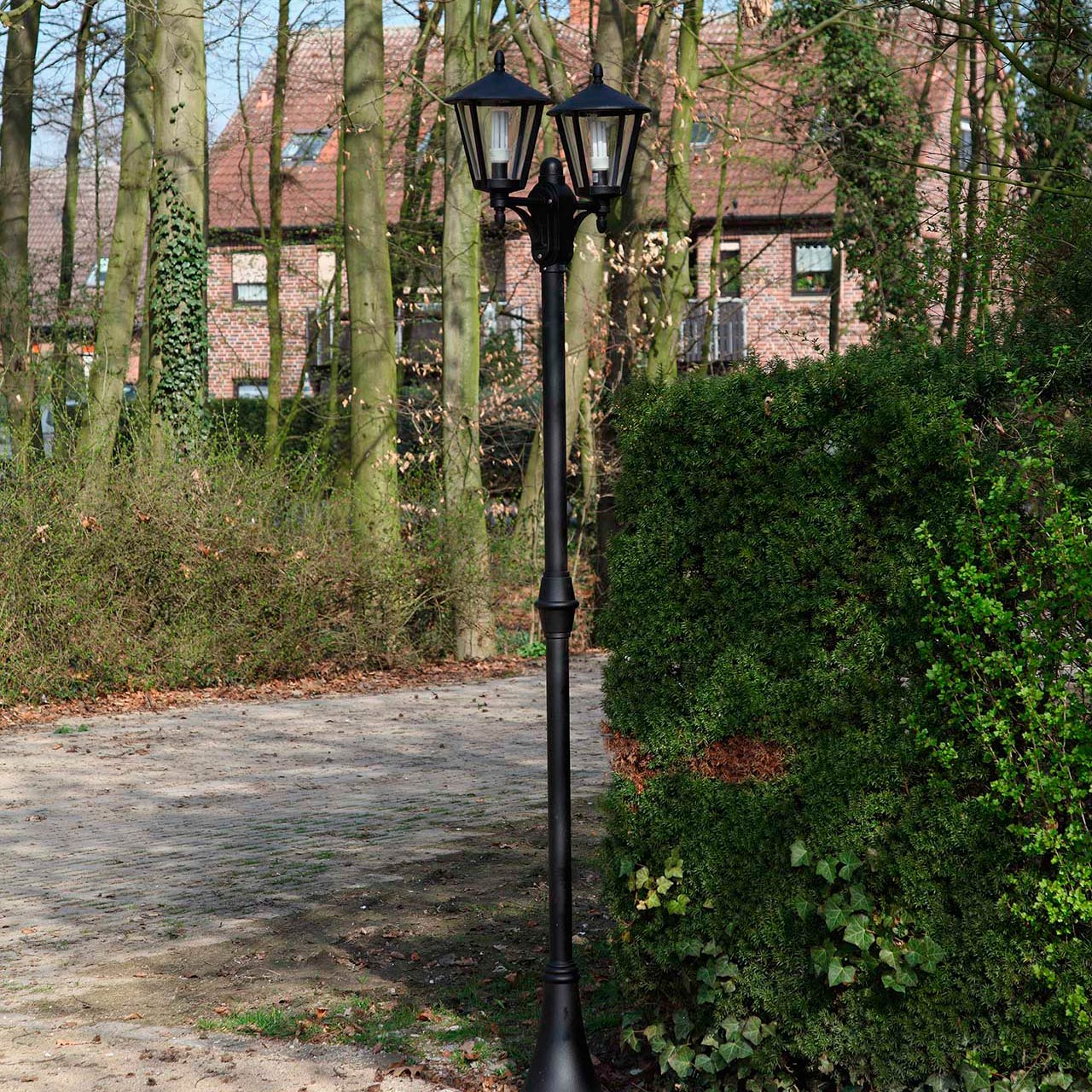 Classic outdoor lights of exquisite quality
Our classic cast aluminum light fixtures are inspired by immortal lighting classics such as lanterns, yard lights, and even historical pole lights. Here, cast aluminum and stainless steel offer the advantage of weather-resistant and corrosion-resistant materials. In addition, it is possible to subject cast aluminum to completely different surface treatments. This gives us at Albert Leuchten the opportunity to customize the design and color of our classic luminaires.
Classic lamps wit translucent glass for atmospheric lighting
When combined with coordinated glass inserts, cast aluminum luminaires become truly classic. For example, our wall lights in lantern design are available with clear acrylic glass or also with milky opal glass. The first version provides an unobstructed view of the illuminant. The second version provides particularly soft and glare-free light.
Our outdoor luminaires with bubble glass, hollow glass or cathedral glass have a particularly classic effect. Here, the light is refracted as it emerges, and the light glow thus has a particularly fascinating and atmospheric effect.
Albert classic lamps – ancient design, up-to-date safety technology
Even if our outdoor luminaires look classic – inside, state-of-the-art LED components of the 21st century are at work. This ensures that even classic luminaires consume little energy.
Of course, the safety aspect also plays a key role here. Classic outdoor luminaires have – depending on the place of use – sufficient IP protection classes according to the legal requirements. The majority of our free-standing country house luminaires, for example, are protected with IP44 against splashing water on all sides and solid foreign bodies > 1 mm.
Albert outdoor luminaires – classic exterior, modern LED interior
The use of modern LED technology offers decisive advantages not only in terms of energy saving. In many classic or historical lights from our production, the illuminants are replaceable. This leaves it up to you to decide which light you would like to use when designing your outdoor areas.
For example, if you use white light with 4,000 Kelvin, the illumination is quite bright and neutral. LED bulbs with a light color of 3,000 Kelvin, meanwhile, emit warmer light. Many people find this type of lighting particularly cozy and pleasant.
Would you like a classic outdoor light with a motion detector? That's no problem at Albert Leuchten either. Click through our offer now or take a look at our PDF catalog. We are sure that you will find one or more classic lights for your outdoor area there.